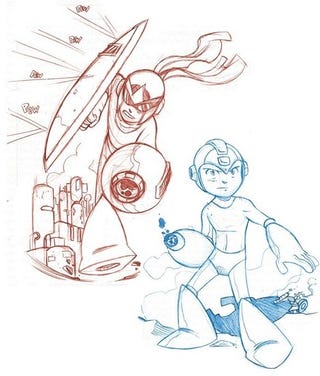 Mega Man is getting a new comic book series this coming spring from Archie Comics, which vows it will be faithful to the game's continuity.
This isn't Archie's first video-game comic either; they already publish a Sonic the Hedgehog series, and past works have included The Adventures of Bayou Billy, Nights Into Dreams, and other one-shots and spinoffs.
Ian Flynn, who currently writes the Sonic the Hedgehog comic, will write Mega Man; Patrick Spaziante, whose credits also include Sonic, will be the artist.
"Archie Comics is ready to carry on this tradition of success, holding true to the spirit of the old school with a fresh eye on Mega Man's strong potential in the world of American comics," said Paul Kaminski, the Sonic and Mega Man series' editor, in a statement.
The Mega Man Network notes that the last attempt at a Mega Man comic book in North America ended after four issues in 2003, with Canadian publisher Dreamwave Productions, which went bankrupt in 2006.