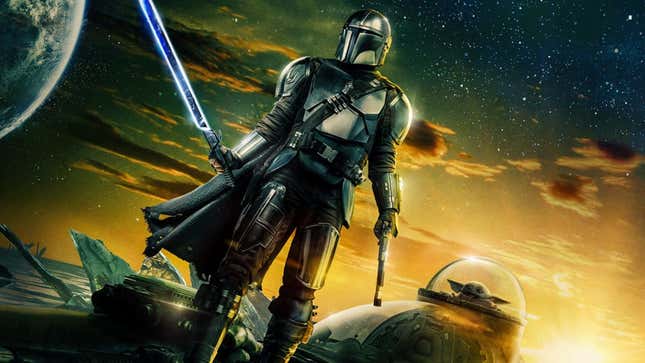 To celebrate the start of The Mandalorian season 3, the eponymous character and his surrogate child, Grogu, appeared for the first time ever at Walt Disney World in Orlando, Florida on March 1—and it was predictably chaotic. While The Mandalorian and not Baby Yoda are regulars at California's Disneyland, they had never yet appeared at the East Coast park despite their wide-reaching popularity. Until now.

11 Minutes Of Cozy Railway Planning In Station To Station
As you'd expect from children seeing their favorite Star Wars character and Disney adults who have made liking Disney their entire personalities, the arrival of Din Djarin and Grogu caused absolute chaos, as seen in pictures shared by Walt Disney World enthusiast site WDW Magic and in TikToks posted by attendees. 
Read More: As Profits Soar, The Disneyland And Disney World Magic Is Dying
The Mandalorian bounty hunter and his Force-sensitive adopted child can barely make it through the crowd as they get mobbeed by fans, some clutching their own stuffed Grogus with glee. "The Mandalorian is trying to get the lay of the land, please leave a path, thank you," a voice says off screen in one TikTok, presumably a Walt Disney World employee trying to get this poor, sweaty man through a throng of people holding up their phones. He really missed an opportunity to clear a path and shout "This is the way!"
While large crowds are normal at Disney parks (especially the Star Wars-themed Galaxy's Edge, which only opened a few years ago) and many of the people there yesterday were likely amped to finally see Din Djarin in the Florida swampland, the excitement could also be due to the initial belief that the two characters would only be at the park that day.
But according to Disney travel journalist Scott Gustin, the two characters will make regular appearances at Orlando's theme park and are not part of a limited-time offering. If you're looking for them in Disneyland Paris, however, they'll only be there until March 14—yet another reason to have disdain for the French.
As someone who had to be aggressively coaxed to stand next to anyone wearing a costume when attending Disney parks as a child, I cannot fathom why you would want to be shoulder-to-shoulder with sweat-slicked, sunblock-oiled shoulders just to snap a quick picture with a Theater major wearing a tin bucket on their head, but I'm not here to yuck anyone's yum.
If you're going to Walt Disney World anytime soon and want to see Star Wars Daddy and Baby in action, WDW Magic suggests looking for them in the marketplace area of Galaxy's Edge. Bring me back one of those alcoholic drinks with the numbing foam, will ya?
Update 03/01/2023, 2:15 p.m. ET: Corrected the name of California's Disney park.