Back on Super Bowl weekend, I tried to pick the 64-man field—two players from each of the NFL's 32 teams—who would be vying in EA Sports' fan-voted playoff for the Madden NFL 13 cover. Half of the picks I made were pulled out my ass. The other half were regrettable for other reasons.
Yet after two days of the field's slow-reveal leading up to next Wednesday, when voting begins, I'm not doing so bad. The draws for the AFC West and NFC West have been announced and I'm 10 for 16 so far.
Remember, merit has only a little to do with this. First, EA Sports needs to have some kind of a relationship with the player, because on the chance that he wins out, they need to sign him up for the cover. That rules out some of the league's more expensive stars (such as Tom Brady or Eli Manning) or its more ornery personalities.
Here's the field that EA Sports has revealed. They'll be rolling out one division per day (weekend included) leading up to the beginning of voting on March 7. You can check in for the latest candidates through the Madden NFL 13 Facebook page or through the game's Twitter feed.
NFC West
Arizona Cardinals
Owen's picks: WR Larry Fitzgerald and CB Patrick Peterson
Actual selections: Fitzgerald and Peterson. Fitzgerald, as the Madden NFL 10 cover star and most visible member of the Cardinal offense, was an easy guess. Peterson's four punt return touchdowns, including a 99-yarder that was one of the year's most sensational highlights, also made him an obvious choice.
G/O Media may get a commission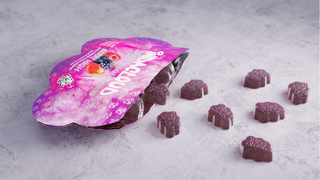 30% off
30% Off Indacloud's Seriously Fun Cannabis Products
San Francisco 49ers
Owen's picks: LB Patrick Willis and TE Vernon Davis
Actual selections: Willis and Davis. Willis was a candidate for the virtual cover of NFL Blitz, assuring his participation here. Davis was likewise a no-brainer.
Seattle Seahawks
Owen's picks:RB Marshawn Lynch and WR Golden Tate.
Actual selections: Lynch and FS Earl Thomas. Overlooking Thomas, a Pro Bowl starter, was an incredibly stupid lapse on my part.
St. Louis Rams
Owen's picks: QB Sam Bradford and RB Steven Jackson
Actual selections: WR Brandon Lloyd and DE Chris Long. I can be forgiven for not including Lloyd, a free agent who is unlikely to return to St. Louis. That's sort of a risk for EA Sports, but not really, as I doubt he'd have enough pull to survive a full 64-man playoff even if he was under contract. Overlooking defensive lineman Long, a Pro Bowl selection the past two years, was stupid on my part.
AFC West
Denver Broncos
Owen's picks: QB Tim Tebow and LB Von Miller
Actual selections: Tebow and Miller, the two easiest calls of the entire tournament. Both players have relationships with EA Sports and Tebow was the NFL's No. 1 story, week-in and week-out, from mid-October until the Broncos lost in the playoffs. This is Tebow's tournament to lose.
Kansas City Chiefs
Owen's picks: DE Glenn Dorsey and WR Dwayne Bowe
Actual selections: Bowe and LB Derrick Johnson. Had RB Jamaal Charles not been hurt, this would have been another easy two.
Raida Organization
Owen's picks: RB Darren McFadden, WR Darrius Heyward-Bey
Actual selections: P Shane Lechler and K Sebastian Janikowski. I can be forgiven for not picking an all-special teams pairing here but, looking back, they were probably the most prolific performers on a pretty good Raiders team otherwise. I think the pairing is alienating to Raider fans, though; they'll back their guy no matter what, but must certainly be thinking he has no shot in the main draw. A kicker on the cover of Madden is about as likely as Ray Guy ever making the Hall of Fame.
San Diego Chargers
Owen's picks: TE Antonio Gates and QB Philip Rivers
Actual selections: Gates and Rivers. Another easy call. Gates has strong promotional ties to EA Sports and is the most recognizable face on offense outside of Rivers, who was a candidate (and No. 1 seed) in last year's tournament.