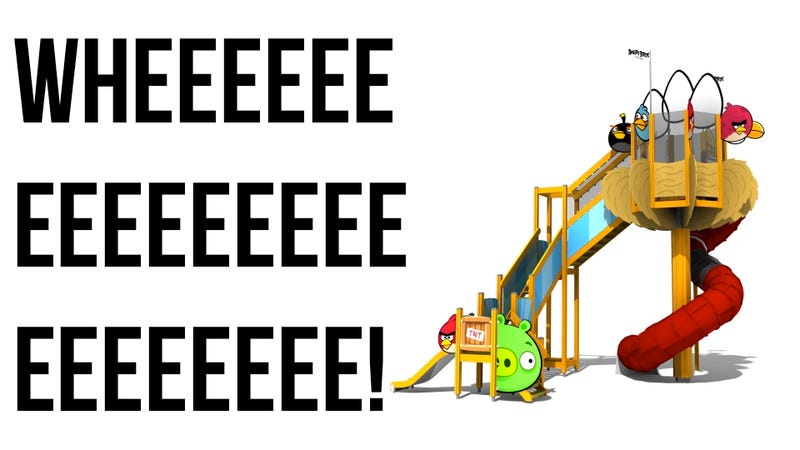 Angry Birds, Happy Kids | Yesterday we ran a story about the coming of Angry Birds playgrounds. Today the playground equipment maker sent us some neat images of the equipment, like this slide.
---
Two great flavors of geek culture collide in this custom map for Blizzard's RTS super-success. Starrcaft player/modder Kenneth Tran's built an homage to Episode V of George Lucas's space fantasy films, substituting planet Braxis for the icy world of Hoth where The Empire Strikes Back took place. More »
---
Nearly pristine. Frozen in time. That's what the claims are for a rare 1985 edition of the Nintendo Entertainment System being sold on eBay. Wrapped in plastic in a handled cardboard box, the NES up for grabs is apparently in the same state that retailers received it more than 20 years ago. More »
---
Very few games are as iconic as Grand Theft Auto III, and it's recent release to iOS devices does not tarnish its reputation whatsoever.
I played the game on an iPad 1 this morning. More »
---
Coming to comic shops and specialty retailers near you, these Gentle Giant sculpted action figures give Alice: Madness Returns a chance to play with the darker side of Lewis Carroll's creations.
Seen above is Diamond Select Toys' Alice: More »
---
Drawing on familiar media representations and cultural histories for the sake of building a female gangster actually seems pretty difficult.
The standard hullabaloo has, of course, arrived following the release of the trailer for Rockstar's Grand Theft Auto V. One bit of disappointment that some... More »
---
I love the idea of the new Syndicate game and I love the original Syndicate, but I'm still too hard-headed to accept the fact that the two will coexist as one, very new sort of game.
But playing it earlier this year and now diving deep into the game's tech and toys, I'm starting to not care that... More »
---
Hot on the heels of the near-mint Deluxe Edition NES we posted about today comes word of an even rarer Nintendo artifact. Placing multiple popular games on one single cartridge, the Super Nintendo Campus Challenge cartridge was created for promotional competitions all over the world. More »
---
Regular readers of our Fancy Pants cosplay feature here on Kotaku will be familiar with the phenomenal work of Crystal Graziano. From Metal Gear to Valkyria Chronicles, she's one of the most recognisable and successful video game cosplayers around.
So much so that her work is now being... More »
---
You might be celebrating GTA III's 10th Anniversary by playing it on your iOS or Android device, with that version freshly out today. Rockstar's celebrating in a different way, though. More »
---
The beta for Gotham City Impostors is out today and it seems pretty cool so far. I haven't been able to play online yet, but the tutorial showed me some of the cool gadgets you get to play with.
I'm playing the beta on the PS3, but Gotham City Impostors will be released to Xbox live, Playstation... More »
---
Fire up a Japanese video game, and you'll see it-just look at the newly released Final Fantasy XIII-2, if you don't believe me. There it is: hair. More »
---
The Icenhancer graphic mod for Grand Theft Auto IV turns Rockstar's game into something some could mistake for film, rather than a video game.
And now Hayssam Keilany says he is working on a mod to turn the sometimes jagged world of The Elder Scrolls V: More »
---
We like tips!
Got tips for our editors? Want to show the world your latest creation? Ready to anonymously share an unannounced game? Email us at tips@kotaku.com. Or leave us an anonymous voicemail at (612) 568-2581.
Want a different layout?
Click here for the Speak Up or Tips forums. Want a more "blog-like" look? Click the button up top next to "Top Stories."
Get more Kotaku!
Want even more Kotaku? Want to know which of your friends read us? "Like" us on Facebook and follow us on Twitter.