Fire up a Japanese video game, and you'll see it—just look at the newly released Final Fantasy XIII-2, if you don't believe me. There it is: hair. The West has its bald Space Marine. Japan, where it's not cool to be bald, has hair wax and luscious locks.
The degree of care and attention spent on hair—real and virtual—is mind-boggling. The number of hair salons in urban centers like Tokyo and Osaka appears to be surpassed only by the number of vending machines and convenience stores. They are everywhere.
Then there's the virtual hair that pops up in anime and video games. The hairstyles there are as elaborate as the outfits. Japan is obsessed with hair—in all its shapes and hues. However, "hair" in Japan is not merely hair.
In Japan, hair has never been just hair. "For ancient Japanese people, a woman's hair transmitted life," Aki, a 27-year-old hair stylist, recently told Kotaku "From aroundt that point, it seems like Japanese people began to think seriously about hair." It's no wonder that it was a Japanese game studio that churned out something like the 2009 Bayonetta, which featured a witch wearing a hair-bodysuit that could be unravelled and re-shaped into comically large weapons.
The country's whole hair culture isn't merely cosmetic. Hair salons embody, as website Chopsticks NY pointed out, Japan's notion of omotenashi or "hospitality", where the attention to detail and attentive service goes well beyond simply cutting hair.
G/O Media may get a commission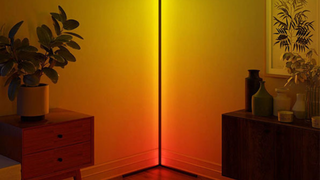 Save 60%
Minimalist LED Corner Floor Lamp
"During the training, people put in long hours and may quit," said Aki. He works at Akihabara-based salon Fuwat, which has the wry slogan directed at rivals: "The Akihabara hair salon without the maids." According to Aki, the idea was to create a proper salon in the city's geek mecca. Like so many things in Japan, people do not screw around with the training to become a stylist. There's the required two years of speciality school, strict examinations, then the five years working as an assistant, biding one's time washing hair, learning how to color hair, and practicing on mannequins, before one can see customers.
Red, red, they call me red. (秋葉原の美容室fuwatバックヤード)
There's a notion in the West that Japanese people, the vast majority of which have naturally dark hair, are somehow trying to copy Westners by coloring their hair. This is a gross oversimplification. The country, always adept at mixing outside influences with its own, was, over a thousand years ago, incorporating Chinese hairstyles. Throughout history, Japan has closed in on itself, but it has never been afraid of looking outward and cherrypicking whatever it fancied. It's plucked ideas from China, from Korea, or from the U.S. Those influences are then mixed with homegrown styles to create something new and different.
Westernized hairstyles did not start during the American Occupation after World War II, but began increasing in the late 19th century, when Japan opened itself up to the outside world and when the country's royalty began sporting Westernized locks. By the 1920s, chic Japanese women were reading fashion magazines depicting the latest styles from the Paris runways. This wasn't new. Centuries before, fashionable Japanese were taking style cues from abroad, with the Chinese-influenced styles of the 5th to 8th centuries. Throughout history, Japanese hairstyles have been a mix of outside influences and domestic traditions, giving birth to something that's ultimately Japanese. Even today, Japan is incredibly Westernized, but it isn't the West, by any means and retains what makes it Japan.
Like in the West, wearing your hair a certain way is a method of protest. During the 1990s, young Japanese women, namely schoolgirls, began bleaching and coloring their hair. Since many Japanese schools have strict rules about hair dying, this was more an act of defiance, of young women standing up to society than simply trying to look Western. The trend spread, and by the turn of the century, adults and teens alike were coloring their hair. Since many schools retained their strict stance on hair-dying, black hair became equated with students, and even today, as soon as young women and men alike graduate from high school, many make a beeline for their local hair salon. Once everyone starts doing it, than the original meaning might be muddled, and it's just another trend. But chalking it up to simple Westernization is incorrect. It would be like saying long-haired American male hippies wanted to look like women.
It's not only women who've been obsessed with hair. Samurai, with their "chonmage" or "top knots", shaved their heads to wear heavy helmets. The hairstyle become so connected to Japanese feudalism and indicative of the samurai class that, during the mid-to-late 19th century, as the country modernized, the government, banned samurai from carrying swords and sporting the chonmage. They allowed one exception: sumo wrestlers. But, when sumo wrestlers retire, their chonmage is cut in a public ceremony.
Hairstyles can encourage unity. Even today, Japanese high school baseball players all get the same buzz cuts to show they are not only part of a group, but specifically, a baseball team.
In the last decade or so, hair salons in Japan have mushroomed up like never before. "Over 10 years ago, there was a TV show called Scissors League that kicked off a star hairstyles boom and lead to an influx of new hair salons," said Aki. That show made a generation of young Japanese dream of becoming hairstylists, and the increase of salons meant that potential customers had a huge selection of places to get a trim.
Final Fantasy 6 has rainbow-colored hair. (Akasha-Chronik)
It's against this backdrop, both contemporary and historical, that Japanese artists create hairstyles. Designers, such as Square Enix's Tetsuya Nomura, aren't working in a vacuum. They are responding to popular 'dos as well as other popular character designs and conventions. That's why, while at other Japanese salons, clients might ask for whatever cut a popular actor is sporting, it's not unheard of for Fuwat's patrons to request game-inspired styles. "For game characters, Sengoku Basara, Persona 4, and Final Fantasy VII are popular," said Aki, adding that some of the key differences between game character hair and real hair include things like the way it grows and, well, gravity.
It's not only hair that Fuwat stylists cut; they also, as Kotaku previously posted, trim cosplay wigs, as cosplayers want their wigs to look just right. It helps that Aki and every stylist at Fuwat not only know games and anime, but they're all cosplayers themselves.
Wigs bridge that gap between make-believe and the real world. "Since my cosplay is mostly from role-playing games and fantasy games, my real hair is totally different," says Mao Inumoto of cosplay collective Akasha-Chronik. Wigs play a key role in Inumoto's fantastic Final Fantasy and Dragon Quest cosplay, and she told Kotaku that when selecting them, she picks quality ones that breath.
Japanese game and anime characters have hair that ranges from yellow to green to pink and even jet black. Hair color is ultimately disconnected from reality, with blonde hair and brown hair existing in the same space as pink or aqua-colored hair. It all ends up in the same pot. "I can't really dye my hair because of my job," Inumoto said, "but I yearn for colorful game-character hair."
Hair is not simply something that grows from skin follicles. It's been a sign of female strength, a marker of male power, and a mirror, reflecting the country's influences, foreign and domestic. "Hair is like the shape of your face, the way your eyes look, and the type of clothes you wear," said Aki. "It's what marks your identity." It's a blank slate on which people can say who they are. That's why walking down the street, looking in the restaurants and shops, it's still so much more. It's inspirational. Hair is how people in Japan express not only who they are, but all they aspire to be. In Japan, hair is not simply hair. It never has been and never will be.
---
(Top photo: Kiyoshi Ota, Koichi Kamoshida, Junko Kimura | Getty / Central Press | Hulton Archive)