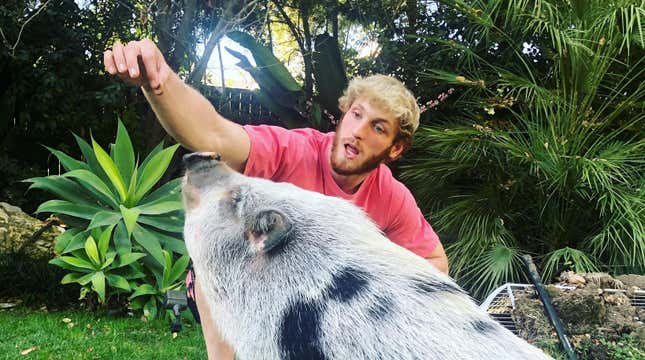 Disgraced YouTube influencer turned amateur boxer turned NFT publisher, Logan Paul, is once again universally loathed after the animal sanctuary Gentle Barn released a TikTok on Monday suggesting it had rescued his former pig from the wild. Named Pearl, the teacup pig was reportedly found alone in a field beside another dead pig when the group discovered her, with Paul proceeding to thank the organization for rescuing her according to an email obtained by TMZ.
The Top 10 Most-Played Games On Steam Deck: May 2023 Edition
"It was just brought to my attention that a pig I owned nearly two years ago, Pearl, was rescued and rehomed by your organization," the email began. "With every ounce of gratitude I have, thank you." The message went on to say that Pearl lived "happily" at the YouTuber's home in Encino for two years, but he had to rehome her to a horse ranch in Santa Clarita when he moved to Puerto Rico in 2020. Pearl apparently only lived there for 10 months before being rehomed again to the farm "across the street."
"It's shocking and heartbreaking to hear the state she was found," Paul wrote. "I wanted to reach out personally and say thank you for taking her in."
Gentle Barn's TikTok said the group recently got a call about an abandoned pig in a field. When it arrived, Pearl was reportedly found with another pig who had died. Her ears were "mangled" and she was apparently suffering from a potentially life-threatening uterus infection. Gentle Barn states in the video that it was told she originally belonged to a famous YouTuber and was irresponsibly rehomed, but that all it knows for sure is "she ended up abandoned and scared."
Paul and Gentle Barn did not immediately respond to requests for comment.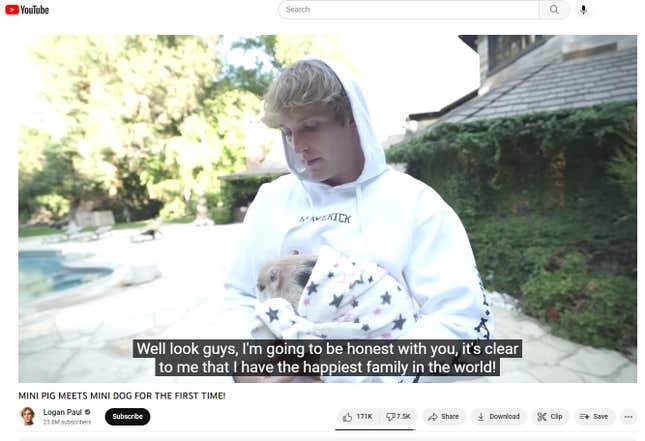 Gentle Barn went on to describe Pearl's fate as part of a pattern of clout-chasing internet celebrities buying "mini pigs" or "teacup pigs" because they think they will remain small and make for good content. "When they inevitably grow very large and have many unexpected needs, they're sadly discarded," Gentle Barn wrote. "While we don't know everything she's been through in her past, we know her life is now filled with friends, nutritious foods, the highest quality care, and so much love."
The story about Pearl comes as Paul battles accusations of conning fans with an alleged NFT crypto scam called "CryptoZoo." An investigation by YouTuber Coffeezilla claimed the game was pitched as a way for people to earn passive income but was really just the setup for a rug pull by members of Logan's influencer team as they took their money out while other users lost hundreds of thousands investing in something that had no future. Paul responded by denying any involvement and blaming CryptoZoo's devs for bamboozling him as well. He also threatened to sue Coffeezilla, and accused him of illegally recording conversations with Paul's manager.
Fortunately, the Gentle Barn is not a CryptoZoo, and it sounds like Pearl will have a chance to heal and be well taken care of there.
Update 1/10/23 2:45 p.m. ET: Paul has responded publicly on Twitter, saying Pearl was rehomed a second time without his knowledge, and casting doubt on whether there was a dead pig in the vicinity when she was picked up by The Gentle Barn.
Update 1/11/23 8:26 a.m. ET: A spokesperson for The Gentle Barn responded with an update on Pearl since she was rescued:

The Gentle Barn has now received an email from Youtuber Logan Paul thanking us for taking in Pearl the pig. Pearl is getting the best care at our animal sanctuary. Here are some of the things we have done and are doing to help her thrive: We got her examined by a veterinarian, checked her teeth, did extensive hoof trims as they were grossly overgrown, got her spayed and while doing so discovered and healed a potentially life-threatening infection. We're feeding her organic fruits, veggies, and grains to get her healthy and full of energy, and giving her sound therapy. We have been slowly introducing her to our potbelly pig family and Pearl has now been fully accepted. Pearl and her new potbelly pig family are now exploring together during the day and sleeping together at night. Her best friend is our pig Barry—they even snuggle together. She loves to follow us around during the day and join us in our barnyard chores. She especially loves Sundays when she rolls over for belly rubs for our guests.