Immortals has been rejected from North America's League of Legends Championship Series, which comes as a shock, given that the organization bought in back in 2015 and has since built one of the league's largest support staffs for their LoL team. That still wasn't quite enough of a commitment in League of Legends for Riot Games, though. According to ESPN, Riot Games rejected Immortals because of its recent investment in Overwatch League, and also because of broader concerns about the state of Immortals' finances.
Riot Games did approve Echo Fox for the NA LCS, and this morning, the New York Yankees announced an investment partnership with Echo Fox's largest shareholder. So, Rick Fox's esports outfit should have an easy time ponying up the $10 million franchise fee for the NA LCS. Speaking of traditional sports moguls investing in League of Legends, the Cleveland Cavaliers have also just purchased a team slot in the NA LCS.
Meanwhile, Immortals' staff appears to have learned the bad news at the same time as the general public. Robert Yip, one of the team's coaches, seemed confused and frustrated:
(Immortals' PR rep declined to comment.)
Immortals is not alone in facing Riot's cold shoulder. Team Dignitas was rejected from the NA LCS earlier this week, and they've been part of the league since its inception in 2013. Phoenix1 and Team Envy, two other esports organizations involved with Overwatch League, have also received the brush-off from Riot Games.
G/O Media may get a commission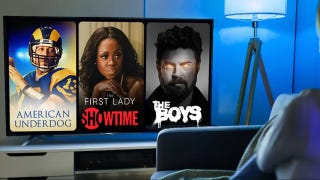 UNDER $1
99¢ Prime Video Channels
Having a stake in Overwatch League isn't the only factor in play. Cloud9 and OpTic Gaming have slots in the Overwatch League, yet Riot Games appears to have no beef with them; both Cloud9 and OpTic made it in the NA LCS. Team Dignitas dropped their Overwatch team entirely, and that didn't help their NA LCS bid.
One of the alleged sticking points for Riot with Immortals was its decision to invest in live venue opportunities for their LA-based Overwatch League team. Last June, Immortals partnered with AEG Real Estate and agreed to host their LA tournaments at AEG venues.
Live event profits will be one of few ways that Overwatch League teams can earn any money back, by the way, and given the whopping $20 million franchise fee, OWL team owners will have plenty of debt to recoup. According to Blizzard, OWL teams get to hold onto "all local revenues generated through their home territory," and they'll have "a license to operate and monetize up to five amateur events in their home territory each year."
The Overwatch League hasn't started yet, and esports franchising is a new enough beast that there's no well-established template to follow. Past attempts at founding esports leagues have taken a long time to turn a profit, though. The Championship Gaming Series, which had a similar region-based structure to Overwatch League, went out of business after just two years. Riot Games' League of Legends Championship Series started in 2013 and it still wasn't turning a profit in 2016.
Riot says it's finally making money off the NA LCS. In June, Riot's esports staffers announced in a video that the league was finally "beginning to generate some revenues" and that Riot would "be sharing League revenues with teams and pros beginning in 2018."
Sucks to be the folks who invested in the LCS before then and got the boot, though. Immortals has supposedly been operating at a loss since 2015, the same year they joined the NA LCS. Perhaps Riot Games saw Immortals' recent investment in the Overwatch League as a risky choice. But investing in League of Legends didn't pay off, either, did it?
Riot Games did not respond to Compete's request for comment before press time.