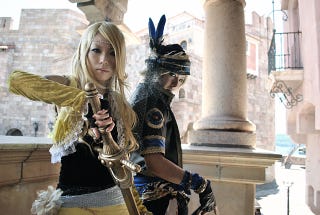 Good cosplay isn't only about good costumes. It's about good backgrounds. Kansai-based cosplay collective Akasha-Chronik nails both.
The group, lead by cosplayer Mao Inumoto, focuses largely on Dragon Quest and Final Fantasy as well as sporting picturesque backgrounds that look straight out of Square Enix's art department.
In the above gallery, Mao and Akasha-Chronik take on Dragon Quest 4, DQ5, DQ8, and Final Fantasy VI. For more photos, check out the link for Akasha-Chronik's site.
Akasha-Chronik [Official Site]
---
You can contact Brian Ashcraft, the author of this post, at bashcraft@kotaku.com. You can also find him on Twitter, Facebook, and lurking around our #tips page.