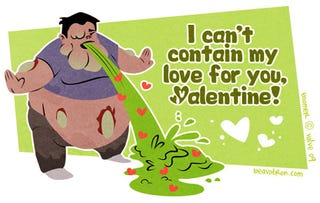 Want to express your love eternal to the Left 4 Dead-loving dork or dorkess this Valentine's Day? Say "I love you enough to print this out from the internet" with "special infected"-filled "Valventines."
Alexandria "Beavotron" Neonakis' romantic contributions for this year bring out the romantic, fun-loving side of Left 4 Dead's survivors and its undead, with adorably gory messages of adoration pun-worthy of proper Valentines.
Beavotron's previous Valentine's Day cards, including these excellent Team Fortress 2-inspired creations as well as ones based on Shadow of the Colossus and Katamari Damacy, are still available at her web site. Old, but not old to your new significant other. But we say show Beavotron how much you care about her bandwidth by grabbing 'em at the link below.
L4D Valentines: Survivors [Penny-Arcade Forums via Aeropause]