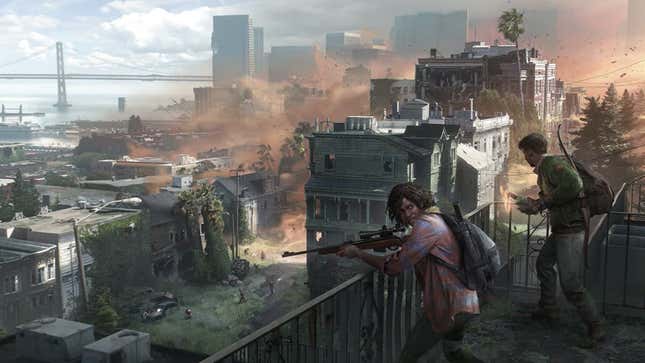 The Last of Us' long-awaited multiplayer game was notably absent at the PlayStation Showcase on Wednesday, and now we know why: Naughty Dog says it's not ready for show.
The Week In Games: Return To Hyrule
In a statement on the studio's social media accounts, Naughty Dog says the follow-up to the first game's Factions mode needs more time in the oven before it's ready to be revealed. The game was originally meant to be part of 2020's The Last of Us Part II, but was separated from the campaign and spun off into its own thing ahead of launch.
"We know many of you have been looking forward to hearing more about our The Last of Us multiplayer game," the statement reads. "We're incredibly proud of the job our studio has done thus far, but as development has continued, we've realized what is best for the game is to give it more time.
"Our team will continue to work on the project, as well as our other games in development, including a brand new single-player experience; we look forward to sharing more soon.
We're grateful to our fantastic community for your support – thank you for your passion for our games, it continues to drive us."
Following the announcement, Bloomberg published a story about the state of the game, in which sources say Sony has slowed down the development of the game as Naughty Dog "reassess[es] its quality and long-term viability." A small group is still working on the game, but much of its team has been moved to other projects within the company. According to the report, Sony asked Destiny 2 developer Bungie, which it owns, to assess games in development within its studios. Bungie reportedly raised questions about the long-term viability of Naughty Dog's Last of Us game and its ability to keep players engaged like a live-service game has to in order to stay afloat, which is why it's apparently in the state it's in now.
We've yet to see the new multiplayer game in an official capacity, but it's not like fans are hurting for a Last of Us thing right now. The first season of a hit HBO series adaptation just aired a few months back, though production of the second season is currently on hold during the writer's strike going on in Hollywood.
Naughty Dog's last game was a remake of The Last of Us, rechristened The Last of Us Part I, that launched on PS5 back in September, but the PC port that followed was not in a good spot earlier this year.
[Update: 5/26/23, 4 p.m. ET: This story has been updated with new information from Bloomberg's report.]