Each week throws off several new video game lists ranging from the humorous to the trivial. What's better? A list of those. Here's a roundup of the rundowns out there.



•Top 10 Halo Easter Eggs [gamrFeed] Commemorating the launch of Halo: Reach is this list of Easter Eggs from across the title's decade-long history. Old favorites like the caveman family and Trogdor are in here, along with some lesser-known others.
•15 God-Awful Video Game Commercials [FileFront] Once upon a time, the only way to sell a Zelda game was with cringe-inducing awful ad-agency-conceived rap. It accounts for two on the list, plus No. 1.
•5 Insane True Facts About Starcraft, The Professional Sport [Cracked] The Korean Air Force has a gaming team. Top Korean players have groupies. There was a major scandal in Korea over a victory dance. This is basically "Five Reasons Why Korea Is Weird, vis-a-vis Starcraft."
•12 Educational Video Games That Were Actually Fun [Topless Robot] I grew up on Lemonade Stand, Odell Lake and Math Gran Prix, so the idea of edutainment games not sucking is somewhat alien to me. Oregon Trail is not No. 1, that belongs to Team Xtreme: Operation Weather Disaster.
G/O Media may get a commission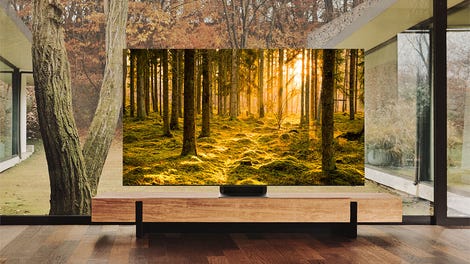 Up to 40% off
Samsung Smart TVs
•Top 7 Sandbox Games Of All Time [Gaming Bolt] This is a reasonably sensible list that doesn't just default to Grand Theft Auto in the top spot, but I'm not sure I like Assassin's Creed II there. I think Bully was more of a sandbox game than ACII which, as good as it was, its side assassinations, courier routes and beat-up jobs never really felt necessary. Still a very, very good game, but not my favorite sandboxer by far. Red Dead Redemption should be No. 1.