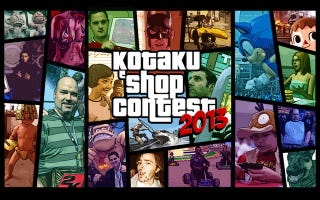 We wrapped up 2013 with an encore comprising the the 10 best exploitables for the Kotaku 'Shop Contest. Including Docherty's training montage (which we already featured), there is a full complement of 20 finalists bringing paying tribute to 2013's best jokes, including overall No. 1 Ginger Snap!
For those who missed it the first time, here's Docherty's look back, followed by a fireworks finale from uscg_pa. Also of note, please do enlarge Hououin Kyouma's take on Raphael's Scuola di Atene. I'm Aristotle! Yeah!
Thanks again to everyone who participated in the Kotaku 'Shop Contest last week and in 2013, helping to make it a showcase for our readership's talent and biting sense of humor. We will have many, many more opportunities in the year to come—beginning tomorrow!
---
Christian M.
---
docherty
---
FAHtastic
---
FeedMeNoms
---
GiantBoyDetective
---
Gin-San
---
Ginger Snap
---
goggamanxp
---
Hououin Kyouma
---
Imagerror
---
JustWaitingForAMate
---
kalochi
---
MrDeadScott
---
nicp1112
---
Orionsangel
---
sciteach
---
SIREOH
---
toolsoldier
---
uscg_pa
---
Xenofloppy
To contact the author of this post, write to owen@kotaku.com or find him on Twitter @owengood.