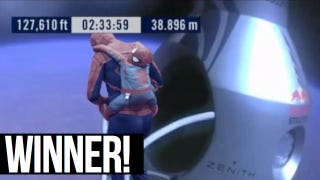 Didn't Spider-Man save J. Jonah Jameson's astronaut son from an out-of-control space capsule? (Answer: Yes, in Amazing Spider-Man No. 1) So, here Arniejolt has Spidey reprising a rescue from the troposphere to lead this week's edition of the 'Shop Contest.
Getting started, uscg_pa (10) put together a bang-up magazine cover, but ... yeah, kinda misspelled Britney's name. Good effort anyway. Snufkin (8) also called back to the sleep suit—and the mysterious face in the trees. halfbeast (3) thinks up a new functionality for the Wii U gamepad.
Lots of people saw a facehugger in Spidey's backpack, and sciteach (7) took care of that, with a color-correct pod, too. Nathalie (4) had the best take on a tank, by far. But my overall favorite was arniejolt, leaping in from the edge of space. His mashup (2) also was a fan-favorite, one I couldn't bring myself to leave out.
Gang, I'm not going to insult anyone's intelligence by ignoring the obvious: With nine finalists here, the 'Shop Contest is in a rut. I can't change our comment system any more than I can change the orbit of Neptune. But I can do a better job of finding exploitables, and I will tomorrow.
Arniejolt

Arniejolt

halfbeast

icnonoclast24

Nathalie

Pan_1da7

sciteach

Snufkin

Tinsweep

uscg_pa