I know the headline and the picture should try to say something about the story, but in truth, neither are in any way related. I just wanted to quote from Crecente's brilliant backhanded compliment to Ultimate Band for the Wii, which he said is "quite a bit of fun" despite acknowledging it "looks like a recipe for a douche simulator." I also could not resist repubbing McWhertor's awesome mashup (left) of Old Snake and the PS2, which ran in a report about Old Reliable's declining contribution to the Console Wars. Suffice to say that's my new comment icon. Because Playstation 2 is no hero. Never was. Never will be. Just an old killer, hired to do some wet work.
These Great Fortnite Creative Maps Show Us What's Possible
This Samsung Xbox 360 TV Looks Fake (But It's Not A Bad Idea)

Sony's Stringer Foresees Profitability This Year

First Shots Of PS3 Video Download Service, Due In "Summer 2008"

Crave's ESA Departure Due To Impending Acquisition

Increasing PS3 Sales, Strong PSP Helped Sony Narrow Losses In FY08

Console War Has Changed, PS2 Declines In Old Age

Hands On With Ultimate Band: Disney's Peripheral-Free Band Game
G/O Media may get a commission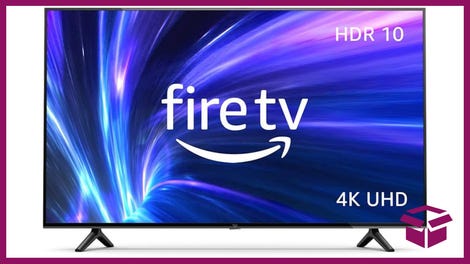 42% Off
Amazon Fire TV 50" 4K Smart TV
More highlights after the jump.
Survey Leaks Guitar Hero IV Playable Rockers Including Hendrix, Ozzy, And Sting

Rock Band 2 To Get A Jolt Of AC/DC, Survey Says

Will Half-Life 2: Episode Three Be At E3? Valve Says 'No'

I Beat Harry Potter's Executive Producer In A Wand Duel

Actually, Zubo Is Fun For All Ages

Blizzard Splashwatch Day Five - Death Knights, Protoss, And Purple Penguins

Hirai: "True Generation" PS3 Titles To Come

Frankenreview: Alone In The Dark (Xbox 360)

A Terrifying Glimpse Into The Future Of The Halo Franchise?

Square Enix Classics Start Hitting Japanese PSN

ESA Responds To Crave Departure

Red Alert 3's Cocktail Menu

Skate It Wii May Get Skateboard Frame for Balance Board

NECA's Ninja Gaiden II Figure

MGS4 Ships A Million In Europe

Left 4 Dead Impressions: Sloppy Seconds

Hasbro Family Game Night Invades the Wii

Industry Apologetics: It's Not Just A Game

Sony Lost Over $3 Billion To PS3 Cost, Pricing Imbalance

Zubo Hands-On Impressions

Gabe Newell: Left 4 Dead is All About Directing Action

Call Of Duty 5 Screens, Details (4-Player Co-Op)

PSN Cards FINALLY Hitting Stores