Namco Bandai's remake of Klonoa refreshingly stands out against many of its Wii peers, from a box art standpoint alone. It's shockingly understated, with little more than protagonists Klonoa and Hewpoe clearly happy to represent.
No attempts to re-brand Klonoa as some sort of party, no garish freak out utilizing every color in the spectrum.
It even drops much of the original PlayStation game's title, whittling down Klonoa: Door To Phantomile to the simple Klonoa. Not that the name seems to carry much weight with gamers, as I find that very few of the folks in my own circle have ever heard of the series. Fortunately, that hasn't stopped Namco from giving the package some tender loving care. And including a free fish taco.
G/O Media may get a commission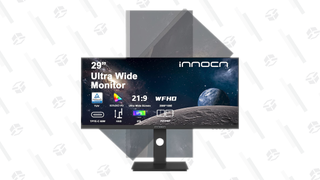 39% Off
Innocn 29" Ultrawide Computer Monitor
Even the manual is in color! That makes Klonoa the second third-party Wii game in my library to get the full color treatment. (The other is Zack & Wiki: Quest for Barbaros' Treasure.)
The dual-language instruction booklet is dense with details, similarly not half-assed like other Wii game manuals. And look! A free fish taco!!
Bizarrely random? Maybe a touch, but when one remembers Klonoa's penchant for "wahooing" and the "Wahoo Stomp" from Klonoa 2, the free taco from Wahoo's makes a little more sense.