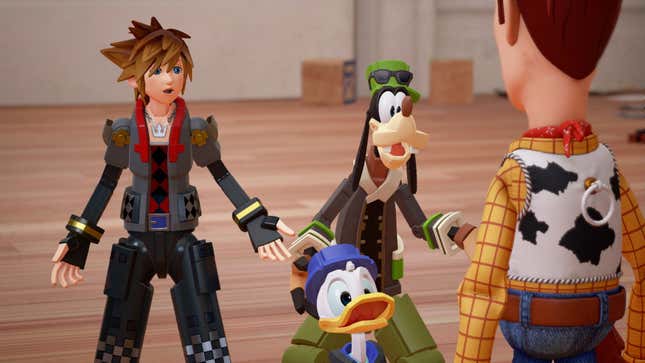 Sora might be coming to Super Smash Bros. Ultimate later this month, but that won't be the spiky-haired hero's only foray on the Nintendo Switch. The Kingdom Hearts trilogy is coming to the popular hybrid console via cloud streaming, Nintendo announced in a digital showcase today.

Bayonetta 3's Family-Friendly Naive Angel Mode Would Work Better In Other, Grosser Games
Read More: Smash Bros. Ultimate Fans Split On Kingdom Hearts' Sora As Final DLC Fighter
Three games from the popular crossover franchise will be available: Kingdom Hearts HD 1.5 + 2.5 ReMIX, Kingdom Hearts HD 2.8 Final Chapter Prologue, and the comparatively simple-named Kingdom Hearts III, plus the game's ReMind DLC. These three titles package a number of releases from the Kingdom Hearts series, which were initially spread across various platforms. Nintendo did not announce a release date.
Traditionally, high-definition third-party games either don't come out on Switch or do so out way down the line, in a less-optimized state (see: The Witcher 3: Wild Hunt). More recently, Nintendo has opted to allow publishers to make visually demanding games available via the cloud. To wit, you can play games like Hitman 3, A Plague Tale: Innocence, and Control: Ultimate Edition via cloud streaming. It goes without saying, but you need an internet connection to play. However, you do not need a Nintendo Switch Online subscription.
The option is also a workaround in lieu of a true 4K model of the Switch. For ages, observers believed Nintendo would release a beefed-up Switch to compete with the likes of Sony's PlayStation 5 and Microsoft's Xbox Series X/S. Instead, Nintendo will soon release an OLED model—basically the same exact thing as the core Switch but with a bigger, better screen for the handheld mode. But in the absence of a 4K model, despite recent reports suggesting that such a thing is in the works, streaming functionality allows players to access games that are otherwise only playable on PC or traditional consoles.
Today's announcement about Kingdom Hearts was buried in the final minutes of a stream introducing Sora, the trilogy's protagonist, to the now fully-ballooned roster of Super Smash Bros. Ultimate. He'll be available—either piecemeal or as the final character of the second Fighter's Pass—on October 18. Fans are split.