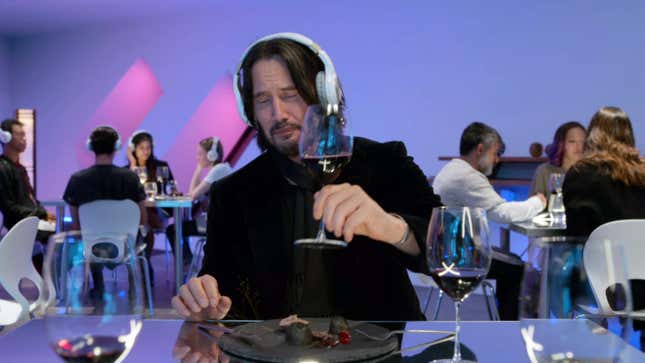 Keanu Reeves, the breathtaking Hollywood action movie star, unaging vampire, and Cyberpunk choom everyone wants to smooch continues his streak of having the absolute best takes on deepfake technology, NFTs, and cryptocurrency in film.
During a promotional interview with Wired for John Wick Chapter 4, Reeves admonished Hollywood's use of deepfakes in movies and revealed that his contracts prevent studios from crafting digital alterations to his performances.

"What's frustrating about that is you lose your agency," Reeves told Wired. "When you give a performance in a film, you know you're going to be edited, but you're participating in that. If you go into deepfake land, it has none of your points of view. That's scary. It's going to be interesting to see how humans deal with these technologies. They're having such cultural, sociological impacts, and the species is being studied. There's so much 'data' on behaviors now."

Keanu Reeves Goes Beyond John Wick 4
During the '90s or early aughts, Reeves had a run-in with a movie studio that digitally added a tear to his face, according to Variety. While Reeves doesn't mind the occasional edit to a take of him blinking, the studio adding a tear made him feel like his presence wasn't necessary.

"People are growing up with these tools: We're listening to music already that's made by AI in the style of Nirvana, there's NFT digital art. It's cool, like, Look what the cute machines can make! But there's a corporatocracy behind it that's looking to control those things," Reeves said. "Culturally, socially, we're gonna be confronted by the value of real, or the non-value. And then what's going to be pushed on us? What's going to be presented to us?"

G/O Media may get a commission
Save all week long
Discover Samsung Event Week-Long Deals
Read More: Your Favorite Voice Actors Call Out AI Sites Copying Voices Without Consent

Reeves went on to describe the cultural shift toward deepfake technologies and artificial digital scarcity as "a system of control and manipulation."

"We're on our knees looking at cave walls and seeing the projections, and we're not having the chance to look behind us," Reeves said.
Reeves isn't the first action-movie superstar to push back against big movie studios owning his likeness. Action movie legend Jet Li turned down the Matrix role of Seraph, the Oracle's bodyguard, because he didn't want Warner Bros. to record and own the likeness of his motion-captured martial arts moves.

"I was thinking: I've been training my entire life. And we martial artists could only grow older. Yet they could own (my moves) as an intellectual property forever. So I said I couldn't do that," Li said in a translated interview with Abacus.

Li would go on to star in the 2002 historical action film, Hero, which became the first Chinese-language movie to sit pretty as the #1 movie in the U.S. box office and set the record as highest-grossing domestic film in China.

Read More: What People Get Wrong When They Think About Video Game AI
Reeves has put his foot down on new lucrative technological inventions before. During an interview with Verge, Reeves scoffed at the concept of NFTs "digital scarcity" and Facebook's Metaverse. It should be noted that this was the same interview where he and his Matrix Resurrections costar, Carrie-Anne Moss, promoted Epic Games' Unreal Engine 5 demo for The Matrix Awakens. Leading up to the movie's release, Warner Bros. sold $50 Matrix avatar NFTs. At least Reeves was thrilled to discover that Johnny Silverhand was the most popular Cyberpunk 2077 sex mod.

John Wick Chapter 4 is slated to hit theaters on release on March 24 and Cyberpunk 2077's upcoming expansion, Phantom Liberty, will launch later this year.