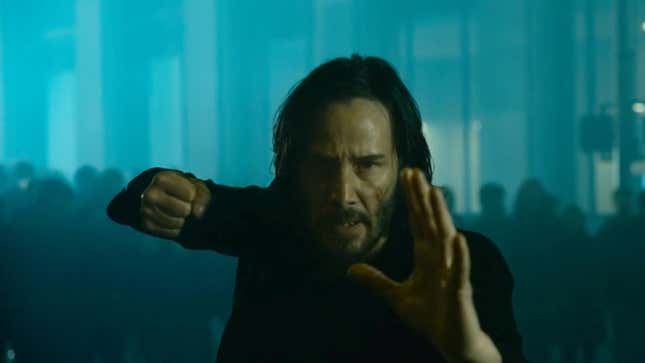 Over the weekend, one of the most beloved celebrities in the world gave Redditors the chance to, well, ask him anything. Topics ranged from what characters he always wanted to play in movies, which of his films he likes the most, why he's so compassionate, and whether or not he's engaged in a bit of Hollywood set theft. While he says he never stole anything, he does reveal which props from John Wick, The Matrix, and 47 Ronin he was fortunate enough to hang on to.
Having starred in countless films over the years, Keanu Reeves has quite the acting resume. Some of his most notable roles include that of humanity's savior Neo in The Matrix trilogy, the ever-violent titular character in John Wick, exorcist John Constantine in the cult-hit adaptation of Constantine, the fiery and rebellious rockstar Johnny Silverhand in Cyberpunk 2077, and so much more that we can't possibly list it all here. Having worked on so many cool projects, it should be no surprise that he's kept a few neat relics from his work.
What movie props does Keanu Reeves own?
Asked if he's "ever stolen anything from a set," Keanu revealed said:
Not stolen… the watch and wedding ring from John Wick, a sword from 47 Ronin, and the first red pill that the Wachowski's ever gave me.
If you know your John Wick trivia, then you'll know that said watch is a rather fancy one: A Carl F. Bucherer Manero AutoDate which, much like the watch Halle Berry's character wears in John Wick: Chapter 3, costs…uh, an amount I shall not spend today. Or tomorrow. Or probably at any reasonable point ever.
And though it's been co-opted in recent years to refer to folks finding excuses to be horrible people, the exotic Red Pill from The Matrix, used in a scene that embodies bold, uncertain choices that represent a point of no return (psst, estrogen pills used to be pinkish red…) is a powerful memento from a film that can be unpacked in a remarkable number of ways.
Keanu's favorite hockey teams, movies, and whether or not he still plays bass
But revealing what props he's hung onto wasn't all that Keanu chatted with folks on the internet about. Here are some of the highlights:
When asked if he ever regrets turning down a role, he said "...No…but I did always want to play Wolverine."
His compassion in life is inspired by the fact that "...we die…and we need all the help we can get."
Of the films he's been in, his favorites include "River's Edge, Bill and Ted's Excellent Adventure, Matrix trilogy, The Devil's Advocate, A Scanner Darkly, My Own Private Idaho, Point Break, John Wick."
His current motorcycle is his "ARCH motorcycle" but he "always dreamed of having a Vincent Black Shadow… one can always dream."
If he was stuck on a long flight, he'd love to watch "A Clockwork Orange and The Wizard of Oz."
His favorite Hockey teams are any Canadian Olympic teams and the Toronto Maple Leafs.
He doesn't have any hobbies but he enjoys a good ping pong game.
Maybe he saw a ghost when he was a child.
He still plays bass, Sonic Youth's Kim Gordon did in fact borrow a bass of his for a music video, and lately he's been really into "Alvvays, Daughter, and Bill Evans trio."
But perhaps the most controversial answer he gave was his preference for pineapple on pizza. Responding to a topic that many people seem to have deep emotional investment in, Reeves, always chill, simply said: "Nay…but yay if the pineapple is slightly roasted."
There you have it folks, order pineapple on pizza, "slightly roasted" and tell anyone who gives you shit for it: "this is how Keanu prefers his."
Read More: Keanu Reeves Continues to Have the Best Tech Takes 
Recently, Keanu Reeves also shared some of his takes on the world of tech, describing deep fakes and NFTs as "a system of control and manipulation," which I hope he said in his best Neo voice. You can check out more of that here.