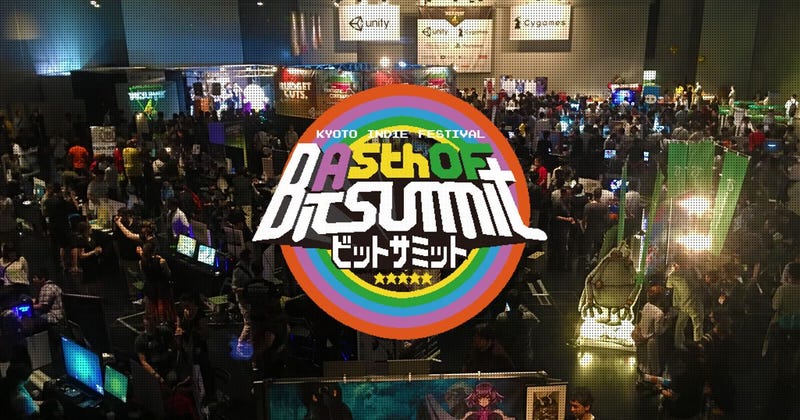 This past weekend, BitSummit got underway in Kyoto. Each year, the event gets bigger and bigger, and this year's appeared to be the biggest yet!

The show has come so far from the first year—which was held in a tiny auditorium and with participants setting up on card tables.
Now big name game developers like Goichi Suda of No More Heroes fame are regulars.
Once again, Sony was on hand with its indie games, as was Nintendo. But what drew my attention was some of the titles I happened upon on the show floor.
My favorite was People Panic. Players hold a UFO attached to a fishing poll, and the goal is to abduct pedestrians milling about on the streets.

I told the guy passing out fishing polls, "This would be excellent as an arcade game." I told him that twice, I believe.
The other game I really liked was Rival Star Hero. It isn't a Japanese-developed game, but a Canadian one. It is, however, influenced by Japanese shmups—but with a cool two player versus spin. I thought it was terrific.
Another interesting title was Merkava Avalanche. You control bikes covered in battle armor and wield swords as you chase after and beat down foes. It seemed like an interesting concept and different from other indie titles on display. It's headed to Steam later this year.
I checked out Q-Games' first mobile title Eden Obscura, which was a slick, beautiful version of PixelJunk Eden for smart devices.

The game uses the front and back cameras for the backgrounds, but does so in a tasteful and artistic way.
Basically, it didn't totally freak me out to see my face in the background. Though, it probably should've!
There was a bunch of other cool stuff on hand, and BitSummit has really come into its own. Compared to the Tokyo Game Show, which is exhausting and stressful, BitSummit is a joy.
This familiar face once again put in an appearance!
---
Kotaku East is your slice of Asian internet culture, bringing you the latest talking points from Japan, Korea, China and beyond. Tune in every morning from 4am to 8am.