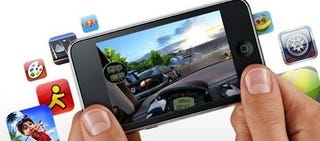 Electronic Arts' Spring sale proves once again that sales can have a HUGE impact on game sales.
Just look at all of the EA titles on this chart.
Here's the full list of games:
Which do you think should be the top game?
Check out all of our iPhone game reviews.
| Position | Title | Price | Weeks | Last Week |
| --- | --- | --- | --- | --- |
| 1 | The Sims 3 World Adventures (EA) | $6.99 | 1 | — |
| 2 | Monopoly (EA) | $2.99 | 15 | 1 |
| 3 | Call of Duty: World at War Zombies (Activision) | $9.99 | 7 | 2 |
| 4 | The Simpsons Arcade (EA) | $0.99 | 1 | — |
| 5 | The Game of Life (EA) | $1.99 | 1 | — |
| 6 | The Sims 3 (EA) | $6.99 | 1 | — |
| 7 | Plants Vs. Zombies (PopCap Games) | $2.99 | 15 | 9 |
| 8 | Doodle Jump (Lima Sky) | $.99 | 6 | 11 |
| 9 | Zenonia 2 (Gamevil) | $4.99 | 1 | — |
| 10 | Scrabble (EA) | $2.99 | 1 | — |