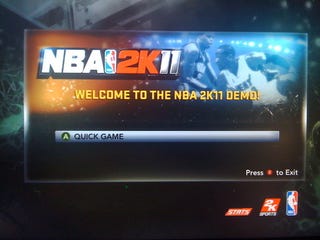 Xbox 360 and PS3 owners can now go download the demo for NBA 2K11, arriving three weeks ahead of the full game's release.
The game gives you one five minute quarter of Lakers-Celtics on the pro difficulty but you may only play as the Lakers. The audio commentary is also removed, but the pre-game animations are there to give you a sense of how a big game will be presented.
The free download clocks in at 715 megabytes. You can queue it up here on Xbox Live Marketplace.