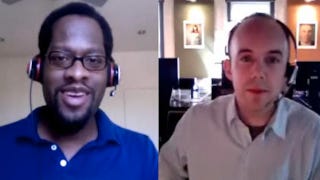 Watch me, Stephen Totilo, chatting with Times Techland's Evan Narcisse about the future fate of Nintendo.
This is a half-hour chat done in video splitscreen, so you can watch me do my best to be a talking head. (I was sporting my telemarketer look; Evan was doing the Lobot.) I couldn't get the embed to work, so go to Techheads.tv and watch me and Evan prognosticate. Will Nintendo ever make games for the iPhone? No, I say. (That Pokémon app doesn't count.)
TechHeads.tv: The Legend of Nintendo
---
You can contact Stephen Totilo, the author of this post, at stephentotilo@kotaku.com. You can also find him on Twitter, Facebook, and lurking around our #tips page.