Like many of you, I'm a big fan of Attack on Titan, be that the anime, the games, or the original manga. But even I got little in the way of enjoyment from last season's Attack on Titan parody, Attack on Titan: Junior High.
Attack on Titan: Junior High is exactly what the title implies: a re-imagining of Attack on Titan as if the story took place in a junior high school, with the characters likewise being junior high schoolers. Of course, this difference in setting, as well as the fact that it's a parody, denotes some major changes to the world.
Instead of humanity hiding behind a giant wall from the human-devouring titans, the wall simply separates the two halves of the local junior high school: the human side from the titan side. The titans, far from the extinction-level threat of the original story, are little more than bullies. Instead of eating people, they simply eat any food that humans are carrying, spitting out any human they accidentally eat at the same time.
So in a world where the titans don't actually kill anyone, Eren's source of driving rage isn't the death of his mother, but rather the fact that The Colossal Titan once stole and ate his favorite food: a cheeseburger steak.
G/O Media may get a commission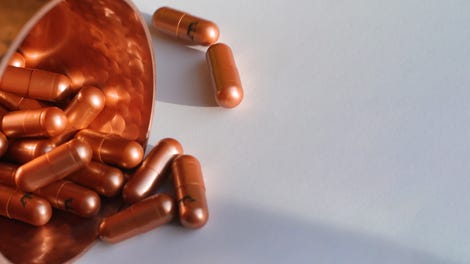 health
The Lyma Supplement
As a parody, one source of humor is the characters themselves. In Attack on Titan, the characters tend to have multiple facets to their personalities. In Attack on Titan: Junior High, every character has been distilled into a single, hyperbolic quirk.
Remember that guy who bit his tongue once in the original anime? Well, now that's his defining character trait and he does it in every episode he appears in. Levi, a bit of a clean freak in the source material, is now straight-up OCD about cleaning. Yamir is in full-blown lesbian love with Krista, proposing marriage constantly. Mikasa is unfazed and emotionless but suffers from addiction withdrawal symptoms when Eren isn't near, and Eren himself does little more than shout about vengeance.
What's odd is that some of the characters' defining traits have nothing to do with their original counterparts' in any way. Armin is constantly wrapped in his security blanket, becoming sick almost instantly whenever he is without it. Annie dislikes Eren because she also likes cheeseburger steaks, and his over-the-top zeal has turned her favorite food into a joke at the school. Rico is obsessed with cleaning the wall.
Unfortunately, Attack on Titan: Junior High feels like nothing but a collection of simple, obvious jokes. The humor is often single layer reference humor. The jokes are usually either direct callbacks to the events of the original series (now in a school setting) or nostalgic school experiences set in a world with titans. In other words, sight gags and situational comedy. Of course, humor is subjective, but I don't remember laughing at a single gag and was so bored I actually fell asleep once while watching.
Frankly, the most fun I got out of Attack on Titan: Junior High was by thinking about it too seriously. Far from the mindless beasts of the original series, the titans are clearly intelligent, sentient beings: they have their own school, language, and emotions. As we never learn their motivations for stealing food, they could be bullies. On the other hand, they could simply have poor impulse control as a species or have a culture where food is a communal resource, not a personal item.
Because of all this, Eren's talk of exterminating the titans makes him seem like a radical racist. It is perfectly possible to communicate with titans. Annie, for one, speaks the titan language and has befriended one from her local cram school. However, Eren never tries to talk to them. Instead he advocates genocide. Genocide. Because a titan stole his lunch.
Middle schooler Eren is a bit of an asshole.
Another interesting aspect of the series is, as a reader of the manga, I am fully aware of which characters are surprise villains, which have dark secrets, and which are living a lie. It's hard, even amidst the lighthearted gags, to see, for example, the mass murderers as anything but, even if this is technically a different world.
Moreover, as this is a parody of the anime adaptation of the Attack on Titan story, often doing re-creations of famous scenes right down to the music, it was more than a little odd to see manga-based spoilers (i.e., spoilers for the upcoming second season of Attack on Titan) pop up in Attack on Titan: Junior High.
Attack on Titan: Junior High is a simple parody with a singular comedic premise: Attack on Titan meets a normal junior high school. It takes the characters you know and love and turns them into one-note caricatures taking part in everyday school activities and events. I suspect children would find this series hilarious, though they'd have to be old enough to enjoy something as brutal as the original Attack on Titan to get the most out of it. For adults, however, even huge fans of Attack on Titan, I can't say I'd recommend this one. It's a good thing, then, for hungry fans like me, that the second season is only months away.
Attack on Titan: Junior High aired on Tokyo MX in Japan. It can be viewed for free and with English subtitles in the US on Funimation and Hulu.
Kotaku East is your slice of Asian internet culture, bringing you the latest talking points from Japan, Korea, China and beyond. Tune in every morning from 4am to 8am.
To contact the author of this post, write to BiggestinJapan@gmail.com or find him on Twitter @BiggestinJapan.