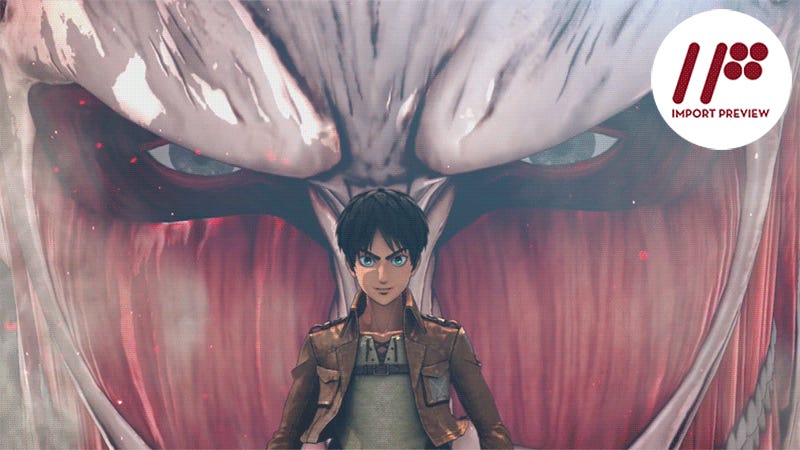 If there's one thing you do a lot of in the new Attack on Titan game, it's slaughter titans.
From Omega Force, the studio behind the Dynasty Warrior games, Attack on Titan looks a lot like them with its tons of enemies to cut through and its expansive maps. But while the game uses the same basic user interface and mission structure, I never really felt like I was playing a Warriors game. This is because the actual gameplay is not a game of hack-and-slash button mashing, but rather one of timing and quick thinking—and soaring through the air at high speed.
Flying through the landscape like spider-man is as easy as holding a button. However, as each of the lines you shoot out connects to an object in the game, your trajectory changes slightly and thus requires a bit of skill to master—especially when outside a large city.
When you approach a titan, you lock on to them, and then send an anchor line into its arms, legs, or neck. From there you can adjust your angle for attack and reel in, pressing the attack button just before you make contact.
As any Attack on Titan fan knows, the easiest way to bring down a giant is to cut out a chunk of the spinal column from its neck. So the method of ultimate death remains the same; however, going right for the neck is not the best strategy in the long run. Most titans have some useful material or another hidden within an arm or leg (which is marked by a jewel symbol). Cutting there first nets you the item which can in turn be used for crafting new weapons and 3D maneuver gear. This mixes up the gameplay and grants the game a bit more strategy: Do you have the time and skill to get the items from the titans—especially if they're in a group? Or is it a better idea for you to go straight for the necks to be as quick as possible.
(As a side note, I found my greatest enemies—more than the titans themselves—to be small trees, corners of buildings, or any other object capable of instantly breaking my anchor line, leaving me to impotently fall to the ground and having to start my attack run anew.)
Besides the normal titans of various sizes, the game comes with boss titans. At first, these only have more hit points than normal titans. But soon you come across those that require you to take out the arms before attacking the neck. Of course, these too become little more than cannon fodder once the Female Titan arrives on the scene with her high speed and the ability to turn her vulnerable areas into a diamond-like surface capable of shattering your blades when you attack.