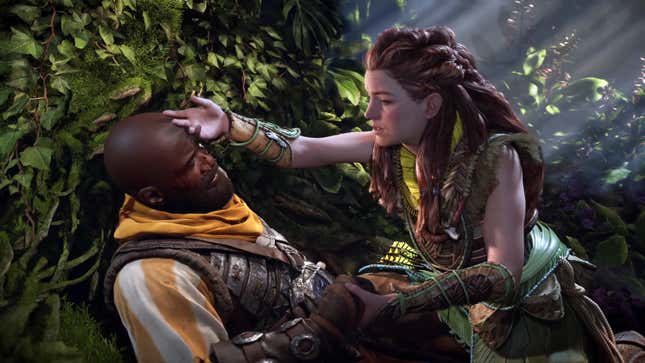 Some screenshots and gameplay footage circulating online today purport to be Guerrilla Games' currently in-development Horizon multiplayer project. And I gotta say, these are some of the most Fortnite-looking, Immortals Fenyx Rising-styled models I've ever seen.
Dead By Daylight Devs' New Game Is Fortnite Meets Doom
It's been known for a minute now that developer Guerrilla Games had plans to expand the Horizon universe after Forbidden West's February 2022 launch. The Netherlands-based studio announced back in December 2022 that a "new internal team" is hard at work on an online project "featuring a new cast of characters and a unique stylized look." It's that "stylized look" that may have cocked some heads, as Horizon's art style and graphics err on the side of beautifully realistic. Picturing anything other than that might've been difficult. However, if the leaked assets are to be believed, we now have an idea of what Guerrilla Games might be aiming for.
Read More: Guerrilla Confirms A Horizon Multiplayer Game Starring New Characters
The assets popped up on both Reddit and ResetEra, with the former showing some early alpha footage and the latter featuring a few screenshots. According to Redditor BirdonWheels, the user responsible for posting the video to the official Horizon subreddit, the gameplay is from summer 2020. It's very likely things have changed in the three-ish years since then. However, what was on display was quite different from either of the Horizon games—at least in terms of art style. The character models in the video were more bulbous and truncated, resembling a Fortnite character or the Immortals Fenyx Rising protagonist more than the life-like rendering of Aloy. There was even a character running around with a wooden peg-leg like this was Sea of Thieves or something.
Just about everything in the leaked gameplay, from the enemies to the environment, looked more cartoony than what you might imagine. The video showed both "join PC" and "join PS4" options, suggesting there could be some cross-platform potential whenever the game comes out.
Kotaku reached out to Guerrilla Games and Sony for comment.
Read More: Report: There Might Be A Horizon MMO In the Works
While it's unclear if this online project is the same MMO Guerrilla Games teased back in November 2022, it shouldn't be that surprising that Horizon is getting a multiplayer project. After all, Forbidden West has been pretty successful for the studio, garnering an 88 on both review aggregators Metacritic and Open Critic. The sci-fi open-world RPG is currently nominated for a number of accolades—including Game of the Year at the Annual DICE Awards, The Games Awards, and others—and has a substantial Los Angeles-set expansion coming out this April. A VR spin-off, Call of the Mountain, is set to launch with PlayStation VR2 on February 22.