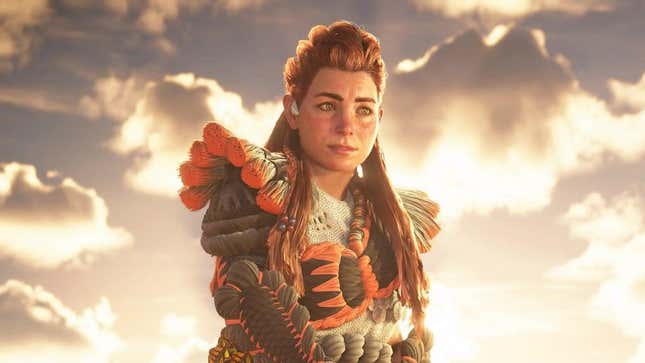 The Horizon Zero Dawn universe will continue to expand with multiple upcoming games. Guerrilla Games confirmed that Aloy's "next adventure" is already in development, while work on a multiplayer spin-off continues as well. Life, and big robot dinosaurs in particular, finds a way.
Stylish Cel-Shaded Skating Shooter Rollerdrome Looks To Be Pure Joy On Wheels
The subtle confirmation was teased as part of an internal reorganization at PlayStation that will see former Guerrilla studio co-head Angie Smets get promoted to Head of Development Strategy at PlayStation Studios. A founding member of the studio over two decades ago, Smets will be replaced by Hella Schmidt, previously a managing director at the consulting firm Accenture.
"We have full confidence in our new leadership as they steer Guerrilla towards a bright future, expanding the world of Horizon with Aloy's next adventure and our exciting online project," the studio wrote in its announcement.
Unlike the 2018 reboot of God of War, which Sony Santa Monica opted to make into a two-game story arc rather than a trilogy, last year's Horizon Forbidden West ended on a cliffhanger. All signs pointed to a final showdown in a third game, though it wasn't clear if it was the studio's next bit priority or not.
Guerrilla has now made clear that a sequel could arrive sooner than later as it continues investing in the Horizon universe. Forbidden West's paid DLC, Burning Shores, arrived on April 19, and a PS VR2 spin-off Call of the Mountain launched in February. And early build footage of the upcoming online multiplayer Horizon game leaked recently too.
Sony still hasn't shared sales numbers for Forbidden West, unlike God of War Ragnarök which it revealed sold over 11 million copies in just its first few months. But the PS5 maker apparently remains all-in on the franchise, having now promoted not one but two of Guerrilla's directors to its senior ranks. It previously made Herman Hulst head of PlayStation Studios in 2019, two years after the first Horizon game's debut.
Given Sony's ongoing acquisition spree—it bought Firewalk Studios just last week—and new live-service game push, there are more studios and projects than ever before for it to manage. Aloy's next game will be one of them, though who knows when it will finally arrive. Probably just in time for Elden Ring 2.