Staring today, millions more people will be able to play my favorite game of 2012. Papo & Yo—the semiautobiographical magical realism adventure that explores life with an abusive, addicted parent—comes out for PC today, after months as a PS3 exclusive. The move to another platform will help the critically acclaimed game get a lot closer to being profitable. (The game's soundtrack is also available today and you'll find exclusive tracks from it embedded in this post.)
Papo & Yo came from the indie dev team at Montreal-based Minority Media. I had a chance recently to speak to studio co-founder Vander Caballero about the lesson they learned making the game and what's coming next from Minority. "The PS3 release was one of the top sellers on PSN and we're happy with the numbers," Caballero told me. "Papo cost $1.5 million to make and we've already made a part of our investment back. Hopefully, we are going to get the other part on Steam and make some profit. It's a great opportunity for us because Sony really helped us to push the game out and make people know about it, and then they really helped us in the development, too. It was an amazing relationship."
And Minority's next creation will be incubating in a similar fashion. The studio's upcoming game Silent Enemy is being developed for Ouya. "If you are an independent you have zero marketing money," Caballero explained. "You have nothing. Then you need someone to support your project. So, if someone asks you for exclusivity and it's going to help you to bring out your product into the market, I think that can be good. Sometime, I think it's the only way to get something out."
G/O Media may get a commission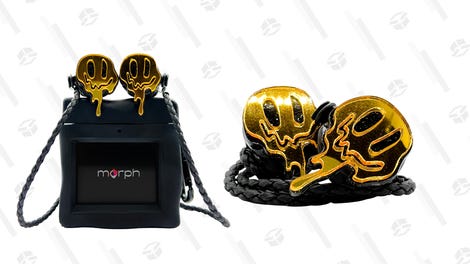 morph audio
Morph Earphones
Some elements of Silent Enemy were outed by recent reporting but Caballero says that the game has changed a lot. "One of my partners is a Cree Indian from Northern Quebec. He said we have to make a really authentic game about Cree culture. It gets cold there, like -50. Survival there is really, really, really hard. I said I would love to do a real authentic hunting survival game about this experience."
"We started developing for iOS," Caballero continued. "But then, our main creative director there Ruben Farrus said, 'Dude, we cannot do survival hunting games. That will not be a Minority game.' I was like, 'You're right man. We have to change it. You find the angle. I'm going to help do it, but it has to be an emotional angle.' "
"Ruben came back and said, 'OK, we can do a game about bullying.' I was bullied before," Caballero told me. "Ernie, our partner, our Cree partner, he was bullied before because his father is white and his mother is Indian, so he got bullied in the reserve. We said, 'Wow, this is a topic that lots of people will relate to. Let's go for it.' That's where Silent Enemy is now. There's still the native American themes in there but it's totally changed from what it is now. It's not about survival hunting anymore. It's more about bullying and dealing with that." The official description, with concept art, follows:
Set in a world of endless winter, and inspired by Minority Design Director Ruben Farrus' experience with bullies and isolation growing up in a small town in Spain, Silent Enemy will require players to use shapeshifting abilities and the help of nature spirits on a quest to release spring back into the world. The game is currently in development for OUYA and tentatively planned for release in Q4, 2013.
"We were developing for iOS, but then what happened is we started finding all these limitations that we couldn't do. For example, we couldn't do full screen effects. So suddenly it's "No, because something is really expensive."
Caballero told me that that the constant balancing act between cost and creative ambition is a struggle that all indie developers face. "At the end of the day, though, it's all worth it when we receive letters about Papo and hear people thanking us for doing the game. We want our games to touch people and it's really good to hear that it's working."