We've got an all-new layout, but the same great gaming scoops and rumors from that mysterious figure known as Superannuation. What did Superannuation dig up this time? Tons of things that you're probably not supposed to know about yet...
Elden Ring's Top Five Spells, According To FromSoftWare's Stats
Two weeks ago, Ubisoft filed a bevy of trademark registrations vis-a-vis "Ghost Recon" and basically every consumer product imaginable. Apparently a lawyer at Ubisoft thinks some of the Ghost Recon-branded versions of the following things could possibly maybe exist at some point:
Biscuits; bread; breakfast cereal; bubble gum; cake decorations made of candy; candies; chewing gum; chocolate; coffee; confectionery chips for baking; cookies; corn chips; crackers; frozen confections; licorice; muffins; pancakes; pastry; popcorn; pretzels; puddings; ready to eat cereal derived food bars; tea; waffles; cocoa; sugar; rice; flour; ices; ice; honey; sauces; spices; pizza; frozen meals consisting primarily of pasta or rice; condiments, namely, mustard, ketchup

Afghans; barbecue mitts; bath linen; bed blankets; bed canopies; bed linen; children's blankets; cloth pennants; crib bumpers; curtains; fabrics for textile use; fabric flags; felt pennants; handkerchiefs; household linen; kitchen linen; receiving blankets; silk blankets; throws; table linen; towels; textile fabrics for home interiors; woollen blankets

Clothing, headgear; Beachwear; belts; bottoms; cloaks; cloth bibs; coats; chaps; costumes for use in role-playing games; beach cover-ups; dresses; ear muffs; footwear; gloves; Halloween costumes; headwear; hosiery; infantwear; jackets; leotards; lingerie; loungewear; mittens; overalls; pants; ponchos; rainwear; scarves; shirts; shorts; sleepwear; socks; sweaters; sweatshirts; swimwear; suits; ties; tops; underwear; wrist bands; hats; caps; scarves

Beverageware; beverage glassware; bowls; brooms; cake pans; cake molds; cake servers; candle holders not of precious metal; candle snuffers; candlesticks; canteens; coasters not of paper and not being table linen; cookie jars; cookie cutters; cork screws; cups; decorating bags for confectioners; decorative crystal prisms; decorative glass not for building; decorative plates; dinnerware; dishes; figurines made of ceramic, china, crystal, earthenware, glass, or porcelain; hair brushes; hair combs; heat-insulated vessels; household containers for food and beverages; insulating sleeve holders for beverage containers; lunch boxes; mugs; napkin holders; napkin rings not of precious metals; paper cups; paper plates; pie pans; pie servers; plastic cups; plates; sports bottles sold empty; soap dishes; tea kettles; tea sets; thermal insulated containers for food or beverage; toothbrushes; trays not of precious metal; trivets; vacuum bottles; waste baskets
If you are an Assassin's Creed fan worried that Ubisoft's lawyers didn't think that franchise was leotard-worthy: do not fret, Ubisoft filed a bunch of similar all-encompassing trademark registrations.
* * *
Among a list of 2012 Canadian Media Fund interactive grant recipients is a description for a new game from Papo & Yo creators Minority Media.
G/O Media may get a commission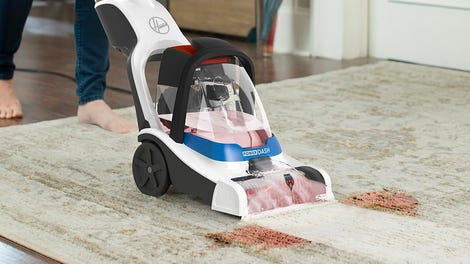 26% Off
Hoover PowerDash Pet Compact Carpet Cleaner
Minority Media received CDN$775,000 for a console project entitled "The Silent Enemy," as well as CDN$186,750 for another project called "The Books of Fears." According to the document "The Silent Enemy" is "a AAA-quality downloadable survival game that lets players experience Native life and spirituality in the harsh and magical North, at a time before contact with Europeans," and is "inspired by a true story."
The objective of "The Silent Enemy" is "to become true Shaman Hunters, able to control the animals and the weather by using authentic hunting techniques, tools, shelter, clothing as well as ancient spiritual practices." The description also says the project will address social issues such as "food production, our treatment of animals and our physical and spiritual connection to the environment."
A preliminary list of funding for 2013 projects includes a tentative commitment for CDN$322,700 for a downloadable Minority game called "Cali," which I would venture to guess is a new name for one of the previous Minority projects. (Curiously, Klei Entertainment, developers of Mark of the Ninja and Shank, also appear on the list in relation to an unannounced project called "Possession.")
Another preliminary list of funding recipients mentions a CDN$735,000 grant for yet another Minority game titled "The Amazing Vehicle Project." This game is supposed to be "the first ever AAA social game for mobile" and brings "sharing through creativity" in both "revolutionary ... content and technology." It is also "Backed by industry giants Epic and Spark Unlimited."
Presumably this is the unannounced iOS project that the LinkedIn pages of several former Minority staffers mention, and one of which mentions the title was supposed to be released for both iOS and Android in Q4 2012.
* * *
According to a former animator's resume, the now-defunct Backbone Entertainment was working on a never released Road Rash HD Remixed in 2010. A former Backbone engineer describes it as a "3D update of classic 2D combat racing IP" for Xbox Live Arcade and PlayStation Network.
Road Rash HD Remixed would be the third known cancelled Road Rash title. Previz footage from EA Warrington's 2006 attempt at a new Road Rash made the rounds in late 2009, and the creator of the footage recently said in his video's comments that he's considering a Kickstarter for a similar project. EA Montreal worked on a Road Rash around 2007 or 2008, and concept art from that version suggests something high-octane and modern. (Perhaps this was the version Sebastian Bach alluded to?)
All of those versions of Road Rash date after 2005, at least five years after the major Road Rash release. EA almost certainly made efforts to take advantage of the IP in those years. One developer claimed on a car message board that he "was part of a pitch for a new Road Rash" circa 2004 or 2005, but found that "the biggest problem was that [Electronic Arts'] UK publishing [arm] wouldnt [sic] support it, as bike gangs have a very very negative image in the UK market place,"
Dan Geisler, a designer on the first three Road Rash games, also recently said he would entertain the possibility of a Kickstarter for a new title, provided there is enough interest.
* * *
Last week, Take-Two registered the domains thebureau-game.com, thebureau-game.net, whathappenedin62.com, and whathappenedin62.net. These domains seem to hint at a rebranding of 2K's beleaguered XCOM shooter, which places players in the shoes of an FBI agent in 1962. Given the success of Firaxis' XCOM: Enemy Unknown, I wouldn't be surprised if 2K thought having two very different games in different genres could dilute the franchise's brand.
The XCOM shooter has been in off-on development since 2005 and gone through a number of iterations at several studios, including 2K Australia, Irrational Games and current developer 2K Marin. Recent information suggests that 2K dropped the first-person perspective in favor of SOCOM-esque third-person tactical shooter possibly for downloadable distribution platforms.
* * *
Earlier this month, Sleeping Dogs developer United Front Games laid off a number of employees (allegedly "around 30") following the cancellation of a "multi-platform" "Action Adventure" project for an unnamed publisher. Although Square Enix appeared bullish on the long-term prospects for the Sleeping Dogs brand, the cancellation of a sequel doesn't seem outside the realm of possibility after the publisher singled out the first game for underperformance in its latest investor presentation.
Also of note: after work wrapped up on Sleeping Dogs, a few United Front staffers (approximately seven, as per the credits) lent a hand on Crystal Dynamics' recently released Tomb Raider reboot. One contract designer says their work "Encapsulated story triggers, scripted "retraversal" and post game content," as well as "Collectible and reward placement."
* * *
superannuation is a self-described "internet extraordinaire" residing somewhere in the Pacific Time Zone. He tweets, and can be reached at heyheymayday AT gmail DOT com.