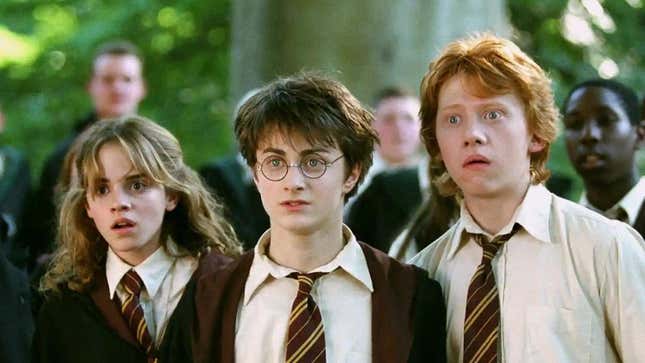 This week, Warner Bros. announced it's returning to where the Harry Potter cinematic universe all started with a "faithful" HBO TV adaptation of J.K. Rowling's books. Where the recent Hogwarts Legacy game tried to stay completely separate from the author and her anti-trans history, the streaming platform rebranded as "Max" doesn't seem to have the same hangups as executives recently dismissed concerns about the controversy with weird non-answers.
This Series Asks What If Harry Potter Couldn't Do Magic, Was Swole
Variety reports that Casey Bloys, CEO of HBO and Max content, tried to handwave away obvious questions about Rowling's involvement during a Q&A with press on April 12 following the TV adaptation's announcement. "No, I don't think this is the forum," said Bloys. "That's a very online conversation, very nuanced and complicated and not something we're going to get into."
"Obviously, the Harry Potter story is incredibly affirmative and positive and about love and self-acceptance," Bloys added, juxtaposing Rowling's past remarks with the source material and how it will be portrayed in the show. "That's our priority—what's on screen."
Immediately after, however, Bloys went on to confirm that Rowling is the series' executive producer and said, "Her insights are going to be helpful." In her own statement put out alongside the announcement, Rowling stressed the close working relationship, writing "I'm looking forward to being part of this new adaptation which will allow for a degree of depth and detail only afforded by a long form television series."
Read More: 15 Hours With Hogwarts Legacy: Magical Surface, Rotten Core
That's in stark contrast to the tightrope Avalanche Software walked with Hogwarts Legacy, a prequel set decades before the books. The game's developers went to great lengths to distance the project from Rowling, stating again and again that she had no involvement. That didn't stop some players from boycotting the game amid a debate about supporting a project that puts royalty payments in the author's pocket as reactionary political forces in the U.S. and United Kingdom lay siege to transgender rights.
But it did suggest players and developers alike were grappling with how to try to re-imagine the Harry Potter franchise and fandom outside the shadow cast by its creator. In the most recent high profile example, Harry Potter star Daniel Radcliffe participated in a roundtable discussion with transgender kids about trusting them to make decisions about their bodies and identities. The event followed up on an open letter published last year in which he declared "Transgender women are women" in stark contrast with Rowling who has repeatedly called for trans women to be treated differently than cisgender women and stoked paranoia around youth hormone treatment.
"The reason I felt very, very much as though I needed to say something when I did was because, particularly since finishing 'Potter,' I've met so many queer and trans kids and young people who had a huge amount of identification with Potter on that," Radcliffe told Indiewire in an interview last year. "And so seeing them hurt on that day I was like, I wanted them to know that not everybody in the franchise felt that way. And that was really important."
HBO apparently didn't feel the same way. "The TV show is new and we're excited about that, but, remember, we've been in the Potter business for 20 years," Bloys said during the Q&A. "This is not a new decision for us, we're very comfortable being in the Potter business." Rather than let that "business" evolve, Warner Bros. Discovery seems content to try and profit off its painful past.