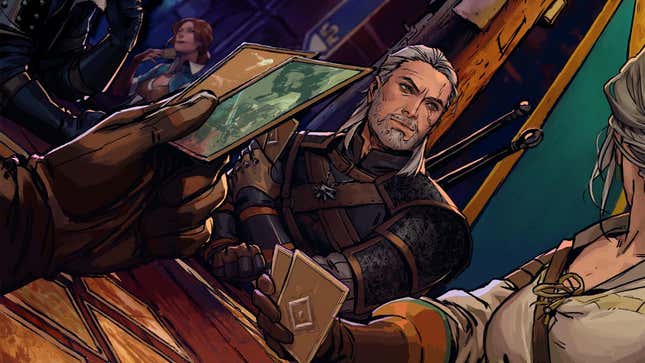 It's no surprise that Gwent, The Witcher card game, is most popular on PC and iOS: the game's hardcore competetive scene is on PC, while mobile is a lot more convenient for everyone else. Today, CD Projekt Red announced it's pulling the plug on Gwent for consoles.
Baldur's Gate 3's Karlach Actor On Playing The Beloved Barbarian
"[W]e have made a tough decision: to discontinue support of console versions of the game," the company announced on the game's website today. As of today, players can no longer spend money on new card packs on PS4 or Xbox One. Starting December 9 the console versions of the game will no longer support matchmaking.
"Looking to the future, we do not believe we can support a growing number of different versions of GWENT while improving feature parity between them," the company said.
This doesn't mean console players are entirely out of luck. Between December 9 and June 9, players will be able to copy their progress from the console version of the game over to a new GOG account. The progress that's carried over to these new accounts includes cards, deck lists, account level, current rank, ornaments, contracts, and any Thronebreaker-related rewards.
Weirdly, while Xbox One players will see their Meteorite Powder—a crafting material used to make cards animated instead of static—carried over to their new GOG accounts, PS4 players will simply lose it. CDPR doesn't explain why, but simply says it's not possible, recommending PS4 players like myself use up all of their powder before migrating accounts.
As someone who has spent over 100 hours playing Gwent on PS4, this news is sad if not entirely shocking. After a years-long beta, the game finally launched on PS4 and Xbox One last December. I still believe it was one of the best free-to-play games on console, though apparently not enough other players agreed.
Still, the news is also something of a blessing. With Gwent already out on iPhones and set to come to Android devices shortly, it'll be nice to be able to port almost all of my progress over to the mobile version and PC versions, which use the same account.
Unfortunately, it does seem like it could put the kibosh on a Switch version of Gwent, a longshot I'd been dreaming about for some time. At least the Switch will always have the original Gwent mini-game thanks to the recent port of The Witcher 3.