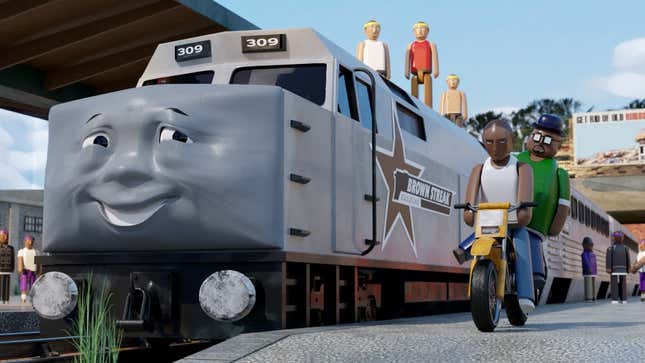 If you've played Rockstar's iconic PS2-era open-world crime simulator Grand Theft Auto: San Andreas, you likely know about the infamously awful train mission. Hell, even if you haven't played the game that mission has become popular online as a meme. And now someone has created a video showing it play out from the train's perspective, and presented it (oddly enough) as an episode of Thomas & Friends, complete with that show's official narrator.
Grand Theft Auto 6 Comments: A Dramatic Reading
Released in 2004, GTA: San Andreas was one of the most successful PlayStation 2 games of all time and is still popular today. Developed by Rockstar North, San Andreas expanded the burgeoning GTA formula to a fuller state and added more vehicles, weapons, missions, and side activities than in any previous installment. Many fans cite it as the single best entry in the series. It's also a mature game, with lots of swearing, killing, and drug use. GTA is not the kind of series you would expect to cross paths with Thomas & Friends, the long-running UK-made series for kids. But that's what happened in a new, definitively not official parody of both the show and the popular game.

The video was created by Hat-Loving Gamer and uploaded on March 21. In it, we see the train's point of view during the worst Grand Theft Auto mission ever created. It's a short but very well-made parody that seems to have flown under the radar. That's a shame because their creation isn't just funny, but also really high quality. If you told me this was some odd marketing thing between Rockstar and Thomas & Friends, I'd be confused, but I'd believe it. This parody is that good!
What really helps sell this thing is the narration, which is handled by actor Mark Moraghan, who is best known as the last narrator of the Thomas & Friends show from 2013 until its cancellation in 2019. (Ringo Starr used to narrate the show when it first aired in 1984.)
Between that authentic narration and the toy-like look of the trains and people, this parody feels like the weirdest episode of Thomas & Friends ever made.

Hat-Loving Gamer told Kotaku that it took about three to four months to create the parody, and that it was an "old idea" he'd been thinking about for a while as a fan of Thomas & Friends. The infamous train mission in GTA: San Andreas seemed like the perfect fit.
As for how Moraghan got involved, it's pretty simple: Hat-Loving Gamer reached out to the actor via his personal website. He explained that the Thomas narrator was "great" to work with and that Moraghan ended up recording more audio with the content creator after this initial video appearance. That audio will appear in future videos similar to this GTA parody but based on famous movie scenes featuring trains, with Moraghan narrating in a similar fashion. I love it when a plan comes together.
Update 5/01/2023 6:02 p.m. ET: Added details about how the collaboration came to be.