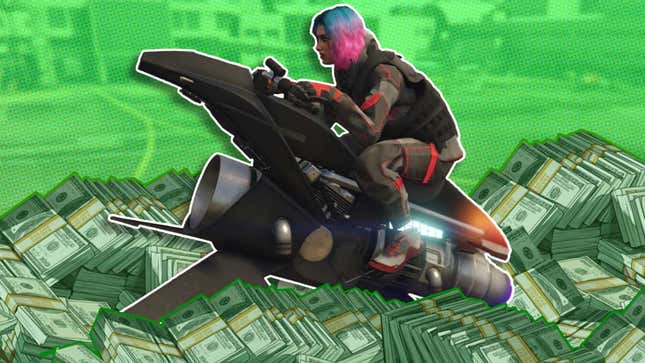 Prices are changing in Grand Theft Auto Online, and it's not all bad news. In fact, many vehicles are actually going to be cheaper soon. And a few annoying and powerful vehicles, like the weaponized jet bike aka the Oppressor Mk II will cost a lot more, which is actually a good thing. Even better, Rockstar has more changes coming soon to help re-balance other powerful aerial vehicles like the jet bike.
The Open World Racing Game That's Been Gone For A Decade Is Coming Back
GTA Online is nearly a decade old. In the world of video games, that's basically ancient. Yet, this popular crime simulator continues to receive big and small updates from Rockstar Games as millions of players around the world log in every day to have fun in its open world filled with side activities, missions, and criminal opportunities. Well, they try to have fun until a troll inevitably swoops in and ruins everything. But Rockstar seems committed to at least making it a bit harder and more expensive to yuck everyone's yum.

All the vehicles in GTA Online are getting price changes
On April 13, Rockstar posted a new blog post on its official website. The lengthy post covered news about an upcoming license plate creator, upcoming events, a new car, and more. But at the very end, the studio talked about changes it was making to vehicle prices to "better reflect their value to players." These changes will go live on April 27.

Here are all the vehicles that will now be cheaper to buy:

Brute Armored Boxville: GTA$2,926,000 / GTA$1,300,000
HVY Chernobog: GTA$3,311,700 / GTA$1,500,000
Imponte Ruiner 2000: GTA$5,745,600 / GTA$3,750,000
Mammoth Thruster: GTA$3,657,500 / GTA$2,500,000
Mammoth Tula: GTA$5,173,700 / GTA$4,100,000
Ocelot Stromberg: GTA$3,185,350 / GTA$2,500,000
Pegassi Oppressor: GTA$3,524,500 / GTA$2,750,000
RM-10 Bombushka: GTA$5,918,500 / GTA$4,750,000
And here are all the vehicles that will cost more to purchase later this month:
Pegassi Oppressor Mk II: GTA$3,890,250 / GTA$8,000,000
Declasse Granger 3600LX: GTA$1,380,000 / GTA$2,000,000
Declasse Scramjet: GTA$3,480,000 / GTA$4,000,000
Dewbauchee Champion: GTA$2,995,000 / GTA$3,750,000
Imponte Deluxo: GTA$4,721,500 / GTA$5,750,000
Pegassi Toreador: GTA$3,660,000 / GTA$4,250,000
Pegassi Weaponized Ignus: GTA$3,245,000 / GTA$4,500,000
Buckingham Akula: GTA$3,704,050 / GTA$4,500,000
Rockstar says the reason for the increase in prices on some vehicles is because they are just too useful, too powerful, or too fast, and as such, the company seems to think they should be worth more and harder to get. While you might think fans would be upset about raising prices, many are happy to see certain weaponized vehicles—like the flying Deluxo and the infamously annoying MK II Oppressor jet bike—get price hikes. The jet bike in particular will see its price more than double to an astounding 8 million, making it one of the most expensive vehicles in the whole game.

GTA Online's infamously annoying jet bike might get more nerfs
This is just the latest chapter in the GTA Online jet bike saga. Even before it was added to the game people were worried about how it would impact the popular online crime sim. And once it was added, it quickly became a problem. Rockstar has tweaked it and other parts of GTA Online in an effort to keep it in control.

Then last year, Rockstar tried to nerf the bike again by making its missiles less accurate and increasing the cooldown rate of its countermeasures. In theory, this should have made it harder to use the bike as an instrument of trolling destruction. However, players are still skilled enough to cause mayhem. And this new price might at least make it harder for so many people to grab one of these powerful vehicles and start blowing up Los Santos.

But Rockstar isn't done with GTA Online's powerful flying vehicles. It ended its latest blog post with a message saying that, based on player feedback, it was "evaluating potential future adjustments" for the game, including "re-balancing certain aerial vehicles to help protect bystanders in Freemode." That sounds a lot like Rockstar might be nerfing a few different flying death machines—and soon. That's good news for people who just want to chill and have fun and not have to constantly be on the lookout for 16-year-old assholes bombing you from above while yelling slurs at the people below.