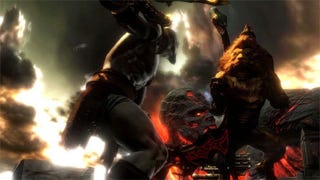 Sony's highly anticipated end to the God of War trilogy won't attempt to shoehorn in some sort of multiplayer component. But the game's developers may have a way of convincing you not to trade in the game after completing it.
God of War III producer Stig Asmussen tells GamePro that the PlayStation 3 game may be due for some downloadable content post release. Asmussen theorizes, but does not officially confirm that "maybe you'll see the game ship with a certain amount of challenges on it, then later on, we might put a download pack out with new challenges." He calls it "a good way to keep the series going."
The interview gives the impression that some of this is still up in the air, that Asmussen and the Sony Santa Monica dev team are still hashing this all out. Maybe they're looking for some sort of response from the God of War fanbase to see if this is worth their time? So, what say you? Challenge rooms: Y/N?
God of War 3 director reveals plans for future DLC and why multiplayer won't work [Gamepro]