The Boston Bruins are a tough bunch, having come back from a two-game deficit to open the first round of the NHL playoffs, and currently leading Tampa Bay 2-1 after losing the conference finals opener at home. Feeling confident, one bigtime B's fan decided to test their mettle online against a live opponent taking the Lightning.
Commenter Beware the Bear estimates he's played nearly 400 games of NHL 11 alone, of all types, offline and online. After logging in he quickly found a Lightning fan feeling just as good about Tampa's chances in the Eastern Conference finals. So the duel was on.
Tampa opened with a goal from Steve Downie with about 10 minutes left in the first period, and Beware the Bear found Boston running low on stamina soon after. He rolled in his fourth line, a unit the Bruins typically use for an energy boost in real life. Shawn Thornton, more enforcer than scorer, zipped in a one-timer with a minute to go to knot the score at one.
The second period didn't end as optimistically for Beware; Tampa picked up two goals and entered the final peeriod leading 3-1. Two minutes into the third, the Lightning too a commanding 4-1 lead on a Martin St. Louis goal. But Beware the Bear didn't chuck his controller or dashboard quit.
Boston immediately answered with a Patrice Bergeron goal to bring it back to 4-2. Setting the offensive strategy to aggressive, the Bruins trimmed the lead to 4-3 on a Zdeno Chara slapper, scored after skating all the way from his defensive zone. Then, with 50 seconds left, David Krejci pulled the only 1-on-1 deke seen all game, threading the puck between Eric Brewer's skates, lifting his stick completely over the unsuspecting defenseman's head, then faking the goalie and flicking in a backhand to knot the score at 4.
G/O Media may get a commission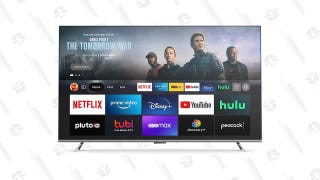 Save 46%
Fire TV 55" Omni Series 4K UHD Smart TV
In overtime, Beware the Bear went back to Krejci and his forehand-backhand fake to ram in the game winner from the same spot on the ice. The comeback, from a three goal deficit in the third period, was "one of my top 10 most exciting games" of all time. The fact it came against live opposition gets it a gold star, too. Here's the box score.
Remember, all you have to do to get yourself featured in Box Scores' Game of the Week is take a picture of whatever sports game you've been playing - crappy cell picture will do - write up a couple sentences about why it was so compelling, and email it to me, owenATkotakuDOTcom, with "Box Scores" in the subject header. I will star all submitters, regardless of whether they are published. So be sure to include include your commenter page URL so I can properly credit the entry.
Now the Kotaku Sports open thread commences with the sports TV highlights for today and tomorrow. All times are U.S. Eastern.
Horse Racing
NBC has the second leg of the Triple Crown, the Preakness Stakes, today at 4:30. Animal Kingdom won the Kentucky Derby, but Mucho Macho Man should get a lot of love at the betting window, following Randy Savage's untimely death yesterday.
NHL Playoffs
Boston and Tampa Bay lock horns in real life this afternoon, facing off at 1:30 p.m. on NBC and TSN. Tomorrow, the San Jose Sharks fought back hard against Vancouver on Friday night but still trail 2-1. They get the Canucks at home for game four at 3 p.m., NBC and CBC.
NBA Playoffs
Oklahoma City and Dallas, tied 1-1, play game three at OKC tonight at 9 on ESPN. Tomorrow, the Heat and Bulls are also knotted at 1-1. Game three of their series is at Miami, 8:30 p.m. on TNT.
Baseball
Interleague play begins this weekend. This afternoon at 1, Fox's game of the week is either Dodgers-White Sox in a rematch of the 1959 World Series, or St. Louis at Kansas City in the re-pairing of 1985. No word if Joaquin Andujar will destroy the ceremonial first toilet. Sunday, TBS has the Mets at Yankees, 1 p.m. The ChiSox-Dodgers is on WGN at 2, and the Cubs and Red Sox are ESPN's game of the week at 8.
Other Stuff
UFC 130 is tonight, with Spike getting the undercard at 8 and B.A. Baracus Rampage Jackson facing Matt Hamill in the feature bout on pay-per-view at 9. Bernard Hopkins and Jean Pascal battle for Pascal's WBC light heavyweight belt on HBO at 10. NASCAR's all-star race is on the Speed Network tonight at 7. Galaxy and Chivas USA stage their cross-city rivalry in the MLS on ESPN2 at 10. All of those events are today. The first round of the French Open begins tomorrow on ESPN2 at 1 p.m.
Remember, you may send your sports Game of the Week nominations to owenATkotakuDOTcom, and flag it "Box Scores" in the subject header. Please include your commenter handle for proper credit.
(Top image by Justin K. Aller | Getty Images)