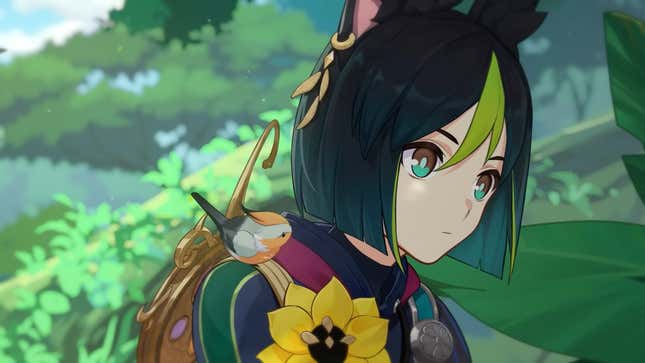 A Genshin Impact voice actor recently came under public fire after several fans came forward to accuse him of sexually inappropriate behaviors towards them. Even fellow members of the cast came forward to support the alleged victims. A week later, Genshin developer HoYoverse announced that Elliot Gindi would no longer be the voice actor for the forest ranger Tighnari, and that his existing lines would be replaced. HoYoverse just announced today that Zachary Gordon would be the new voice of Tighnari in Genshin Impact.

A Foe From The Next Team Ninja Game Is Giving Me Sekiro PTSD
On February 7, Elliot Gindi's Twitch moderators released a document they'd compiled which listed a number of allegations of sexually inappropriate behavior against the voice actor. These included "coercion," "grooming," and "threatening suicide" in an apparent attempt to prevent the disclosure of his having had relationships with underage fans. Gindi later came forward to confess that while he had made inappropriate sexual comments and used threats of suicide to coerce, he denied knowingly dating underage fans. Nevertheless, a number of other Genshin voice actors and staff voiced how appalled they were at how he had seemingly taken advantage of his role to approach vulnerable fans. A week later, HoYoverse announced that Gindi would no longer be voicing the playable character Tighnari, and that the role would be recast. Fans applauded the decision and waited patiently for a new voice actor.
This morning, HoYoverse announced that Zachary Gordon will become the new voice actor for Tighnari, starting from the 3.6 update.
Zachary Gordon is an experienced voice actor who has previously performed in Kingdom Hearts III, Mafia, Star Wars Rebels, and Final Fantasy XV. "Honored and proud to be a part of the Genshin family," Gordon tweeted.
HoYoverse sent Kotaku a statement in an email chain about their commitment to recasting Tighnari's role in response to the Gindi controversy. "We're pleased to have Zachary Gordon as the new English voice artist for Tighnari. With the newly released Version 3.6, Tighnari's voice lines have been fully updated with Zachary's performance," a spokesperson wrote. "And we hope fans and gamers can continue enjoying Genshin Impact with the latest event and story taking place at the Sumeru Akademiya."
Aside from a new voice actor for the forest ranger, version 3.6 also brings significant amounts of gameplay content to Genshin. Players who missed Nahida and Nilou during their original runs will finally be able to roll for them again during the gacha. (Hint: Nahida is an incredibly versatile support for anyone who wants to explore Dendro teams.) Baizhu and Kaveh will be playable for the first time in a limited-time event next month.
While you'll have to wait a bit for Baizhu and Kaveh, the Nahida and Baizhu story quest should occupy you in the meantime. And if you're excited about new gameplay, new dungeons and monster types will be available in two new areas located in the Sumeru region. The patch will be available later today.
Update 4/13/2023 at 10:15 a.m. ET: Added a comment from HoYoverse.