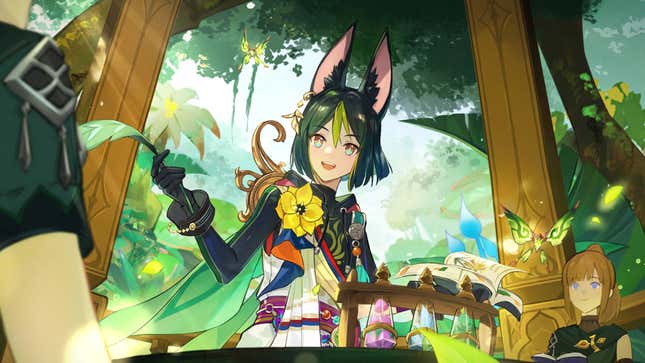 One week after a Genshin Impact voice actor publicly apologized following accusations of having sexually inappropriate relationships with fans, HoYoverse has finally taken action. The studio announced on Twitter and Reddit that the actor, Elliot Gindi, will no longer voice Tighnari due to a "breach of contract."
The Top Ten Most Played Games On Steam Deck: December 2022 Edition
According to HoYoverse, the character Tighnari will be re-cast by the recording agency, and Gindi's lines will "gradually" be replaced. The company said it intends to issue more official announcements when these changes take place. The announcement did not specify how Gindi breached his contract. Though, if the exuberant replies from content creators and other Genshin voice actors are indicative of anything, it seems like everyone already has an idea.
On February 7, one of Gindi's Twitch moderators, who previously served as a moderator for this Discord channel as well, dropped a bombshell document that detailed the voice actor's alleged interactions with fans. That tweet has been viewed more than 13 million times as of the time of this writing. At least three Genshin players claimed to the Discord moderation team he made sexual requests and used his celebrity status to pressure them into relationships. Gindi confirmed that he had relationships with three fans and that he threatened suicide if those fans allowed the news to break. However, he denied any willful wrongdoing or knowingly entering relationships with underage fans.
The document was reported to Google and eventually removed, but not before gaining traction in the Genshin community. The #ElliotGindi hashtag contains multiple fan allegations about misconduct on Twitter, and multiple Genshin voice actors spoke out on the platform against their former colleague. The combination of these factors put a ton of pressure on HoYoverse to make a formal announcement, despite the company's typical reluctance to publicly comment on community controversies.
HoYoverse previously told Kotaku in an email that it "deeply [regrets] the harm and damage that happened to our fans, gamers, community, and anyone affected." At the time, it said it intended to take action but did not make mention of any possibility of removing Gindi from the game.
As many redditors said in the comments section have noted, it's fortunate that his career imploded before he could make contact with even more impressionable young fans. "I'm so glad for the kids who spoke out about this," wrote one Reddit user. "If left unchecked, this would have gotten so much worse."