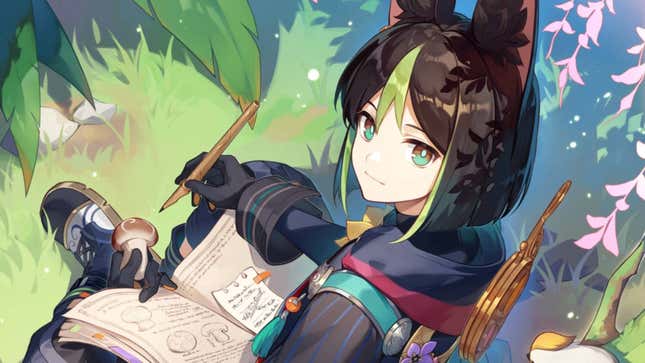 The voice actor of a popular Genshin Impact character was recently accused of being in relationships with multiple fans, some who claim to have been underage at the time, and pressuring them for nude photographs. The voice actor, Elliot Gindi, further confirmed in a TwitLonger post Wednesday that he threatened suicide if the victims came forward with their stories but denies purposeful wrongdoing. Multiple Genshin voice actors have condemned Gindi publicly for what they see as exploiting the power imbalance between a celebrity and their fans.

The Top Ten Most Played Games On Steam Deck: March 2023 Edition
Content warning: The links lead to graphic text descriptions of relationship abuse
On February 7, one of Gindi's former Twitch and Discord moderators, Matty (who asked not to be identified by her surname), compiled a public Google doc of screenshots that reportedly showed his interactions with three fans over Discord and Instagram. Some of the screenshots are of the fans' descriptions of Gindi's behavior to the three moderators who helped to compile testimony. These accusations include "coercion," "grooming," and being someone who "threatens suicide to get away with sexual relations with teen fans." Kotaku spoke with Matty and was able to independently confirm they are still one of Gindi's Twitch moderators and that they acted as moderator for the voice actor's Discord as recently as Monday, February 6, though they have since left the latter post following the release of the allegations.
"I stayed simply because I had a plan for when I tweeted the document," Matty told Kotaku over a phone call. "I was going to [ping] everyone in the server with the link and then leave, which is what I did. I caused a little bit of chaos."
"What is true: All of the screenshots of the chat logs. Yes, all of the cringy sex talk. Yes, I did threaten suicide if it got out," Gindi wrote in the TwitLonger post addressing the accusations. "I didn't think through the severity of that. I'm sorry." Gindi also rejected the accusation that he had knowingly been in a relationship with any underage fans. "I was not 'waiting' for someone 15 to turn 18," he wrote. "I flatly rejected them." Kotaku reached out to him for comment, but did not receive one by the time of publication.
The tweet spread across the Genshin community incredibly quickly. As of the time of writing, the above tweet has 9.5 million views. Many fans of Tighnari, the character Gindi voices, seem to believe the accusations, and they're upset that he voices one of their favorite characters. Many have demanded that the forest ranger's role should be recast to a different voice actor.
Chris Faiella, a Genshin voice director, publicly promised fans that he would use his influence with HoYoverse to "rectify the situation."
"Everything Elliot has done has left me so angry and triggered," tweeted Brianna Knickerbocker, the voice actor for Hu Tao. "There needs to be consequences for his actions. There needs to be support for the victims."
"Just becoming aware of the situation with Elliot. I'm disgusted and upset to say the least," wrote Stephanie Southerland, who voices Jean Gunnhildr. "To anyone who has been taken advantage of, my heart hurts for you. Speaking up is so difficult but please know that the rest of the cast stands with you."
"What Elliot did is awful, vile and I'm sorry to all the victims he affected." tweeted Alejandro Saab, who was casted to play Cyno. "It's inexcusable and I'm hurting physically and emotionally! I do not condone any of his disgusting actions."
Other Genshin voice actors have used their platform to condemn voice actors who behave inappropriately towards fans. "Fans trust you with their hearts and to abuse that trust and take advantage of your position is deplorable," wrote Jackie Lastra, commonly known for her work as Xiangling. "My heart is with the victims. We see you."
Kotaku emailed HoYoverse to ask if Gindi will be removed from his role, and received the following response. "We deeply regret the harm and damage that happened to our fans, gamers, community, and anyone affected," wrote a company representative. "Both our internal teams and external partners including our voice acting studio have been working together on an urgent solution. And we will keep you posted on the progress."
Update at 2/9/2023 at 1:32 P.M. E.T: Removed references to the moderator's surname at her request.