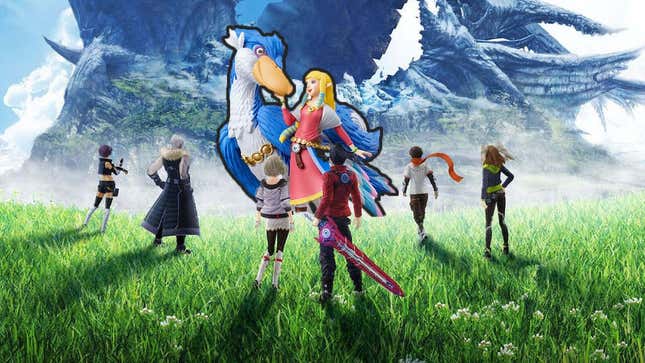 In a sign that GameStop is either doing great or is really desperate, the meme stock gaming retailer is currently running some incredible deals, including buy one get one free on certain new releases and big discounts on accessories like the The Legend of Zelda: Skyward Sword amiibo that unlocks fast travel.
Skyward Sword HD Revisits The Stumble That Led To Breath Of The Wild
I have no idea how long the current "OMG" sales are running for or how long the stuff will stay in stock, but they are some of the best discounts I, in my long time scouting gaming deals, have come across. The buy one get one free sale includes the following games, among others:
Yes, you can get two of the Nintendo Switch's best JRPGs of the last 12 months for the price of one.
The Legend of Zelda: Skyward Sword HD Zelda and Loftwing amiibo is also currently $5 in-store, which is $20 off. For anyone who remembers, this is the one that didn't arrive in time for the game despite being the only way to unlock fast-travel in the port of the Wii game. But with Tears of the Kingdom just around the corner, it'll also be useful for earning extra loot in that game, as well as for unlocking a special Skyward Sword-themed hang glider.
Finally, Square Enix is running its own big sale on the torrent of new games it recently unleashed. Forspoken is just $45, Theatrhythm Final Bar Line Is $40, Crisis Core -Final Fantasy VII- Reunion is $35, and Tactics Ogre: Reborn is $30. All of these games were released in the last four months. But Square Enix's loss is your gain. Harvestella, Star Ocean: The Divine Force, and Dragon Quest Treasures are also on sale.