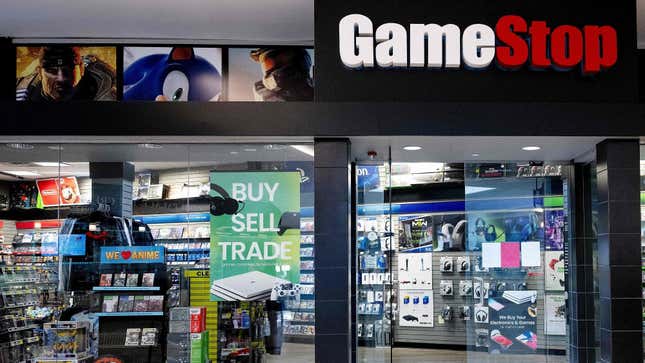 GameStop's customer loyalty program is getting a huge makeover in June, according to screenshots of internal corporate training materials shared with Kotaku. The existing PowerUp Rewards membership will see its name changed to GameStop Pro, with the price going up from $15 a year to $25 in exchange for bigger discounts on collectibles and pre-owned games.
The Week In Games: System Shock, Street Fighter 6, And More
GameStop Pro will roll out on June 27, with existing memberships being phased out as they come up for renewal. Notably, the training materials say current members won't have to pay the new price until their membership is renewed, while still receiving all of the additional benefits. One current employee said they are being discouraged from renewing customers under the current cheaper program until the new version is active.
The big draw of the current program is a monthly $5 coupon that can be used on almost anything in the store or online, and a points system that provides 2 percent cash back in the form of GameStop store credit on all purchases. According to the training materials, GameStop Pro's new perks will include:
5 percent off pre-owned games
5 percent off all collectibles (including Pokémon cards)
5 percent off all product warranties
5 percent off clearance items
5 percent off GameStop brand gear (like PC gaming accessories)
The monthly coupons will remain, but some benefits of the current loyalty program are also being stripped away. The 5 percent off is actually only half of the discount customers used to get for Pro memberships five years ago. Points will now expire within 12 months if they aren't used, and will immediately disappear if membership ever lapses. Complimentary subscriptions to the print version of Game Informer, the long-running gaming magazine, will also apparently not be an option for customers to buy moving forward. Those with existing subscriptions will continue to get it "for the time being," while everyone else will only get it digitally.
Read More: Entire GameStop Store Quits On Zelda: Tears Of The Kingdom Release Day
The training materials tell employees not to communicate these upcoming changes until May 23, but screenshots of them have already begun leaking online. The GameStop subreddit is already full of people claiming to be both customers and employees who are furious with the overhaul, mostly because of the 66 percent price increase and the fact that points will now automatically expire.
The meme stock company reported its first profitable quarter in several years recently, but it came as GameStop burned through leftover inventory and enacted several rounds of layoffs last year. While the new version of the rewards program could end up being worth it for some customers, it will be another tough sell for those who only buy a couple games a year and are increasingly getting them from online retailers or digitally downloaded directly onto their game consoles.
GameStop did not immediately respond to a request for comment.
Update 5/22/2023 1:16 p.m. ET: Added clarification that monthly coupon will still remain part of the program, as will the digital subscription to Game Informer.