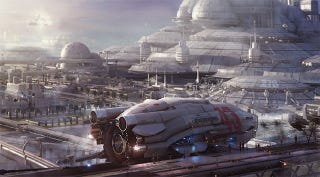 Fine Art
[Fine Art](https://kotaku.com/c/fine-art) is a celebration of the work of video game artists, showcasing the best of both their professional and personal portfolios. If you're in the business and have some art you'd like to share, [get in touch!](mailto:plunkett@kotaku.com)
If you're an aspiring games artist, and you see the stuff we post here on Fine Art and think "uunnnhhhhhh I'll never be able to afford to get that good", you might be in luck.
VERTEX is a book series set up by games artist Ryan Hawkins. Fed up with the limited selection of commercial books available, he got a bunch of industry friends (like Sparth, John Park, Furio Tedeschi and Ubisoft's internal teams), together and started publishing guides on how to make art for video games.
The fact so many professional artists got together to make a guide is great. The fact they release these things for free is even better.
There are currently two volumes of VERTEX available. You can grab them here.
---
To see the larger pics in all their glory (or, if they're big enough, so you can save them as wallpaper), click on the "expand" button in the bottom-right corner.
Fine Art is a celebration of the work of video game artists, showcasing the best of both their professional and personal portfolios. If you're in the business and have some concept, environment, promotional or character art you'd like to share, drop us a line!
---