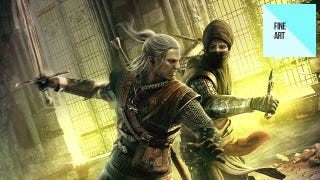 Fine Art
[Fine Art](https://kotaku.com/c/fine-art) is a celebration of the work of video game artists, showcasing the best of both their professional and personal portfolios. If you're in the business and have some art you'd like to share, [get in touch!](mailto:plunkett@kotaku.com)
Brazilian artist Rafael Grassetti is a talented kid. We've already seen his amazing work on the Mass Effect universe, from sculptures to fan art, but today we're looking at his more professional output.
Grassetti has been working as a video game artist for a few years now, mostly as a freelancer on games such as The Witcher 2, Dawn of War 2 and Fable III.
Unlike most other artists we showcase here on Fine Art, though, his work is of a more rendered nature, as he's mostly done character art for cinematic sequences (intros, cutscenes, etc) and advertising material. As such, a lot of material in the gallery above consists of trailers he's worked on; remember they're the work of many, not just one man!
Oh, and if you liked his Mass Effect work, well, you're not alone; last month Grassetti was hired by series developers BioWare, where he'll be working on the Mass Effect universe as a senior character artist.
What, you didn't think they'd stop at just three Mass Effect games, did you?
You can check out more of Gabriel's art at his personal site.
To see the larger pics in all their glory, either click the "expand" icon on the gallery screen or right click and "open link in new tab".
Fine Art is a celebration of the work of video game artists. If you're in the business and have some concept, environment or character art you'd like to share, drop us a line!
---
You can contact Luke Plunkett, the author of this post, at plunkett@kotaku.com. You can also find him on Twitter, Facebook, and lurking around our #tips page.