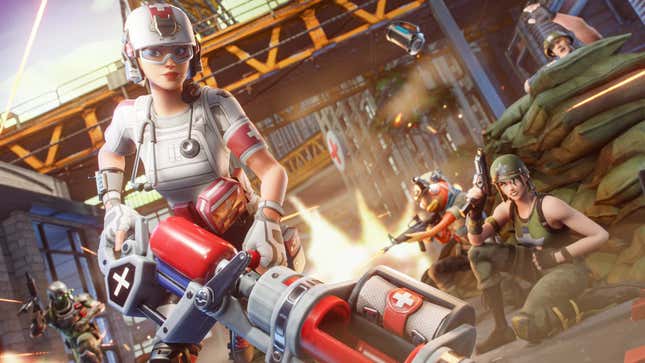 The International Committee of the Red Cross has partnered up with a bunch of Twitch streamers to encourage gamers to not commit war crimes in popular shooters like Call of Duty. The ICRC hopes that its event, "Play by the Rules," will educate players on the statutes of actual war. The organization has even created its own Fortnite mode to help communicate what those rules are.
The Witcher 3 Meets Tense Roguelike PvE Card-Battling In Rogue Mage
Read More: War Crimes in Video Games Draw Red Cross Scrutiny
"Every day, people play games set in conflict zones right from their couch. But right now, armed conflicts are more prevalent than ever," the ICRC website said. "And to the people suffering from their effects, this conflict is not a game. It destroys lives and leaves communities devastated. Therefore, we're challenging you to play FPS by the real Rules of War, to show everyone that even wars have rules—rules which protect humanity on battlefields IRL."
As part of the event, on the ICRC's official Twitch channel streamers have played a number of games while adhering (or attempting to adhere) to the Laws of Conflict, including PUBG Battlegrounds, Fortnite, Call of Duty: Warzone, Rainbow 6 Siege, and Escape From Tarkov. In addition to the Play by the Rules event, the ICRC created its own Fortnite mode that's designed to convey the rules of war in the context of competitive play.

For those curious, the official rules of war for the ICRC's Play by the Rules event (which have been streamlined to account for video game mechanics) are:

No thirsting (don't shoot downed/unresponsive enemies)
No targeting non-violent NPCs
No targeting civilian buildings
Use med kits on everyone
This isn't the first time the ICRC has urged players to critically think about the rules of war. Back in 2017, the ICRC hosted a similar event in an Arma III DLC called Law of War. In Law of War, gamers put down their weapons and took on the role of humanitarian workers as they respond to people in crisis, deactivate mines, and speak with an investigative journalist. According to a blog post from Arma III developer Bohemia Interactive, the DLC raised a total of $176,667, which it donated to the ICRC.