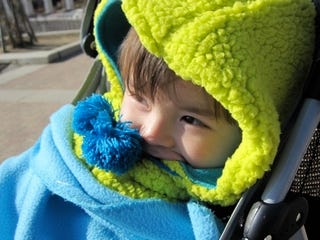 To: Crecente
From: Bashcraft
RE: Toy Fair
That's Micro-Bash. He's 1 and a couple months old. And today he got his first library card.
His older brother, Mini-Bash, has had a library card for a couple years now and really enjoys going to the library — more so now, because he has learned to read. They both checked out a big stack of books.
For all the talk about what would happen if print dies, the saddest and most horrible thing I can imagine is the disappearance of libraries. Things like borrowing a book, taking care of it and returning it in time are lessons you just can't learn on line.
What you missed last night
Final Fantasy XIII Gets An Xbox 360 Bundle In North America
Dead Space 2 (Probably) Won't Be Scaring The PC
Left 4 Dead: The Movie Is A Dominican Republic Exclusive
Report: US Army Tried To Buy 360s For Training, Was Turned Down
Ghost Recon: Future Soldier Teased Right Here, Right Now