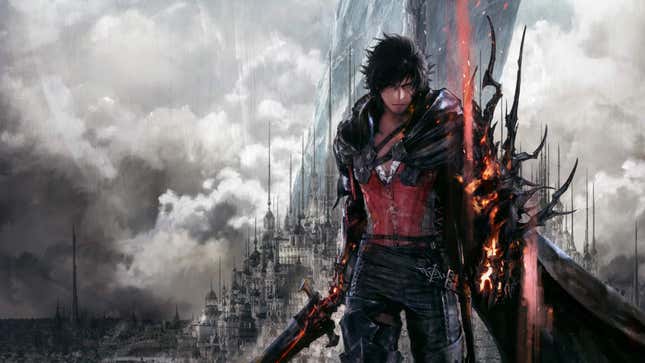 Final Fantasy XVI, Square Enix's monumental action role-playing game from earlier this summer, is experiencing a teeny tiny discount on the PlayStation store. There, both Standard and Digital Deluxe versions of the (as far as we know) PS5-exclusive game are on sale now through September 7 at 2:59 a.m. Eastern.
I Didn't Play Final Fantasy XVI 'Right,' And That's OK
The Standard digital version is 20 percent off, taking a short fall from its now ubiquitous in the games industry $70 price tag to a more respectable $56. The discount on the Digital Deluxe game, which comes with a digital "mini artbook" and "mini soundtrack," according to its PlayStation store description, follows suit—it's also 20 percent off, cutting its usual $90 price back a little to $72.

So, in other words, you can score the Digital Deluxe FFXVI for the typical price of the Standard game. That could be worth it, especially if you've been hesitating to pick FFXVI up so far amid this summer's glut of big games—Diablo IV, Baldur's Gate, Bethesda's Starfield, etc.

About FFXVI, players seemed to share the same few hesitations. But whether or not FFXVI brought back or strayed too far from the soul of its 36-year-old franchise comes down, like lots of things, to personal taste. But the game still clearly knows its roots. "The latest entry breaks tradition in ways that won't be to everyone's tastes," Amy Mallett writes for Kotaku, but it "still carries so much of [other FF games'] enduring DNA."

Read More: Final Fantasy XVI Shouldn't Be This Divisive

Like other FF games, FFXVI is stocked with squish-worthy Moogle, a guy named Cid, and a protagonist twink endowed with an incredible head of hair. But it can also appeal to those completely new to the Final Fantasy franchise—they can, instead, sit back with an open mind and settle into "the kind of twists and turns that make you scream at the TV," Mallett writes, the "darker, more mature plot elements [comparable] to fantasy writing royalty," like the game's inspiration Game of Thrones. And it's 20 percent off? Even better.