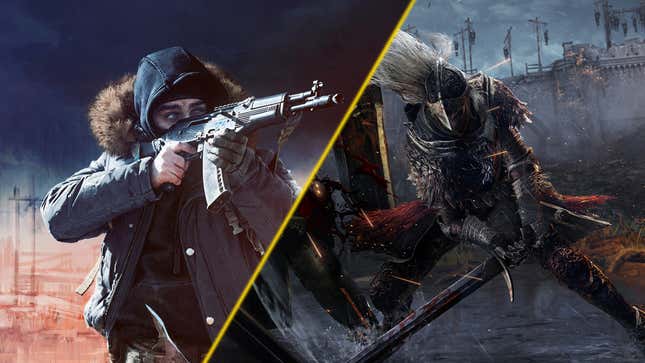 It seems that Elden Ring director Hidetaka Miyazaki and I share an affinity for the same kind of game: Extraction shooters. (I always knew he had good taste). In a recent interview, the award-winning director said that he was a fan of none other than Escape From Tarkov and, more importantly, that it and other innovative multiplayer games are providing inspirational material for future FromSoftware games.
Hollow Knight: Silksong's New Gameplay Trailer Is Living Rent-Free In Our Brains
Released last year, Elden Ring has become a phenomenal success. One of the best Soulsborne games yet, it justifiably scored last year's title of Game of the Year at the Keighley's. The game's first major expansion was also recently announced to eager anticipation from fans. Though many typically enjoy Elden Ring and other Soulslikes as tough, solo RPGs, FromSoftware's games have often included multiplayer components. Aside from cooperative play, players can "invade" another player's game, posing a new and smarter threat.
Though wildly different genres, extraction shooters like Escape From Tarkov and, more recently, Call of Duty's DMZ, offer a similar experience. As PvPvE games, players are at risk from hostile AI just as much as they are from other players. But instead of warping in by way of a Bloody Finger like in Elden Ring, players in multiplayer extraction shooters are always at risk of "invasion" from players occupying the same game instance, creating an unpredictable set of tough challenges.
Read More: Elden Ring is Getting an Expansion that May Go Into its Biggest Mystery: Miquella
What is Escape From Tarkov? (and why it's so similar to Elden Ring)
Speaking to IGN about future games from FromSoftware, Miyazaki said:
"I'm really interested in [multiplayer elements, both technology and game design] as one of the fans and one of the creators. Especially [Escape from Tarkov]. So I'm basically paying attention to those elements as a creator and fan of the game."
Still in Early Access from its original release date of 2016, Escape From Tarkov has made a name for itself as a brutally technical and tactical shooter. The goal of gathering essential gear or quest items and then escaping from the map is challenged by hostile AI and players scattered across an open world filled with unlockables and collectibles. On top of that, the game features a highly detailed health system and set of inventory management responsibilities. Get out alive, you keep everything you found. Die, and you lose it all, including what you came in with. Hmm, doesn't that sound familiar?
Other extraction shooters, such as Call of Duty's DMZ or The Cycle: Frontier, dial back some of the survival and loot management, but preserve the same PvPvE element. Though the main game loop is to get in and get out of an area, everything that happens in between is completely up to the unpredictable chaos of uncertainty and competing interests. Look past the shooter gameplay, and it bears striking resemblance to the Dark Souls or Elden Ring's loop of traveling from campfire to campfire, hopefully alive and with all of the souls you've recovered along the way. Kinda makes sense then that Miyazaki is a fan.
Elden Ring's creator is interested in using other players as a "gameplay resource"
What Miyazaki seems to be particularly interested in when it comes to games like Tarkov is how this multiplayer arrangement uses other players "as one of the resources for the gameplay." In multiplayer extraction shooters, other players are equally an opportunity for opposition or cooperation, which leads to tense standoffs and broader debates about the ethics of player behavior and difficulty—again, not too dissimilar to debates over difficulty level when it comes to the Souls games.
From the perspective of an individual player, opposing players take on the role of the game's obstacles, creating challenges of unexpected and varied difficulty and behaviors that rely on social dynamics just as much as they do actual game mechanics.

Whether or not such inspiration is likely to be seen in Elden Ring's recently announced and upcoming expansion remains to be seen. But damn, the mere thought of a fusion between these two worlds sure as hell is exciting.