Tim Langdell's not really a developer - "litigator" might be a better job description - but the Lord of Edge is really on the IGDA board. Now someone's started a petition to remove him.
This is a little more meaningful than your average ranting internet petition. It was begun by International Game Developers Association member Michael Lubker, and is only taking signatures from IGDA members. Lubker, like many others, is repulsed by Langdell's campaign of harassment against anyone who produces a game - something Langdell has not done in 15 years - whose title or branding somehow invokes the unique word he trademarked, which is "Edge."
We've chronicled his shenanigans before, as recently as this past weekend. These aren't isolated incidents, folks. Just now he's gotten Mobigames' Edge, which brought this mess back into the public consciousness in May, re-yanked from the iTunes App store. Moreover, Langdell has alleged that Edge is somehow an infringement on his own game of 1986, something called Bobby Bearing, which is itself a ripoff of Marble Madness.
G/O Media may get a commission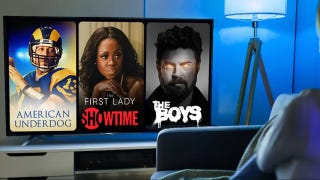 UNDER $1
99¢ Prime Video Channels
Back to the IGDA: In his argument, Corvus cites the relevant portion of the bylaws in his argument for Langdell's removal. Basically, they need 10 percent of the membership to demand a vote on the removal of Langdell from the board of directors. I've gotten word that this movement was afoot already, but the anti-Langdell side was having difficulty getting a membership mailing list from the IGDA. I'm not sure what the leadership's posture would be toward a petition hosted on a third-party site, whose only means of verification is a self-entered membership number.
But if anything, it continues to force the issue on Langdell's obnoxious behavior and the embarrassing association the IGDA has with this man. More than a few others have told me no one really paid any attention to the voting on the board membership in the past; if nothing else, maybe people will now.
Update: From Cult of Mac's Craig Grannell comes word that Mobigames' Papazian has talked with Bobby Bearing's actual developers, Robert and Trevor Figgins, and they claim they retain the rights to the game. Langdell, they assert, was just the publisher. Further, those two are said to believe that Mobigames' Edge is not a game similar to Bobby Bearing. If this is true, it makes Langdell's claim even more despicable, although we are talking about a contract they had (if any) more than 20 years ago, at a time when such things were a lot less formal than they are now.