Aside from a stint in Atlanta and two years spent in Santa Monica that we'll never speak of again, the Electronic Entertainment Expo has always been held in Los Angeles. But that doesn't mean it always will.
A report in the Los Angeles Times today points out that E3's contract with the LA Convention Centre only runs until the 2012 event. After that, things are up in the air, as while extension talks are underway between the show's organisers and LA city officials, there's no guarantee a deal will be signed.
Why? Because a football stadium is being built right next door to the Convention Centre (indeed, it'll be built on top of the centre's West Hall), that's why, and the ESA's Rich Taylor says "We don't want our attendees to have to rappel across a construction quarry to get to a booth."
There's currently a standoff between the stadium's builders, LA city and the ESA (organisers of E3), and while things are looking far from critical, the ESA admits it has been looking at alternative venues. Just in case.
Hopefully one of those is Vegas. I've always thought E3 would go down a treat in Vegas.
G/O Media may get a commission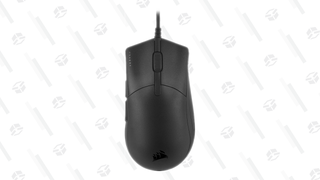 34% Off
Corsair Sabre Pro Champion Gaming Mouse
Click click
Weighs a mere 69g, has a flexible paracord cable to help avoid any excess resistance, uses Corsair Quickstrike buttons with a spring-loaded design for absurdly fast button presses, and uses Corsair Axon tech to process everything faster and transmit your movements and clicks to your PC far faster than some other options.
L.A. in contract talks to keep E3 convention in city [LA Times]
(Top photo by Kevork Djansezian | Getty)