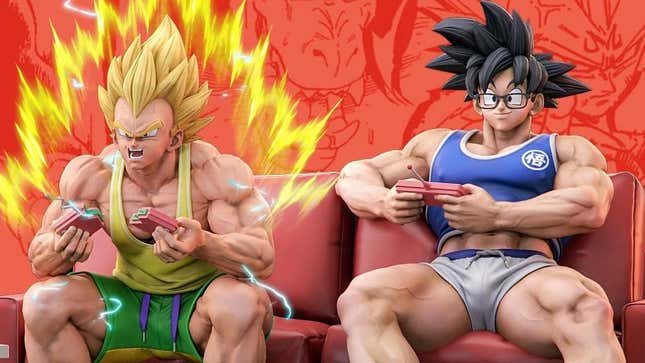 Goku and Vegeta have never been hotter, or more relatable, then as these hulked-out statues of the two Dragon Ball Z heroes crushing some retro games on the couch. The energy here is more pure and powerful than any Kamehameha or Galick Gun. I want to fill every room in my house with it.
"It's very realistic and fun, [with] intricate details such as facial expressions, movements, and game props," wrote maker FuzzFeet Studio in a post announcing the limited run collectibles. The statues are $179, measure roughly 7 inches high and 13 across and feature Goku and Vegeta playing a retro console reminiscent of the Famicom (Japan's version of the NES). Revealed on March 29, the statues are currently available for pre-order, with an estimated ship date of fourth quarter 2023.
To be clear, I have never heard of FuzzFeet before, and have no idea if they can actually ship something that looks close to these promotional images, let alone on time. But damn, it looks cool! The flip-flops and glasses are an especially nice touch. Frat bros never looked so good-natured or slutty.
Comments on the announcement which blew up last week are mostly filled with fans thirsting after planet Vegeta's last Saiyans. From Goku's midriff to Vegeta's ripped arms, the beefy husbandos have clearly hit on an underserved segment of the DBZ market. FuzzFeet wasn't lying about intricate details either. Goku's junk is basically on full display.
There's an endless supply of high-end Dragon Ball Z figures, not the least of which hail from the Bandai Namco Figuarts line of collectibles. Most of them are all about making Goku and company look as bad-ass as possible, however. It's nice to see someone take a different tact, trading shirt-torn Super Saiyan transformations for domestic scenes of guys just being dudes. Couch co-op is dying, but the memory of it will burn brightly in FuzzFeet's tribute, if it ever ships.