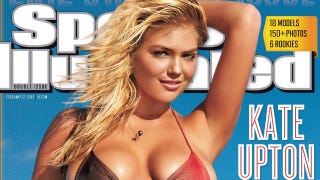 Rumors are flying that Kate Upton, the cover model for this year's Swimsuit Edition of Sports Illustrated, is now dating Justin Verlander, the cover model for, well, Major League Baseball 2K12. And a series of promotional shoots for that video game, according to unnamed sources, is what brought the couple together for the first time ever.

Sounds like a perfect couple to me. As word spread that the five-time all-star and last year's MVP (a rarity for a starting pitcher) was seen with Upton out and about in Detroit this past weekend, I reached out to 2K Sports to see if the label would confirm or deny any role in the matchmaking. I sent the following questions:
• Did 2K Sports engineer Verlander's cover appearance and Upton's promotional work with the intent of playing celebrity matchmaker?

• During the promotional shoots for MLB 2K12, did 2K Sports ever witness flirting, necking, canoodling, heavy petting or anything that would suggest future couple-hood?

• If so, did you take pictures?

• If Kate Upton and Justin Verlander did get married and have kids, how would their offspring be rated?
Kotaku did not receive a reply by the time of publication. Should 2K Sports wish to make any, it will be updated here.