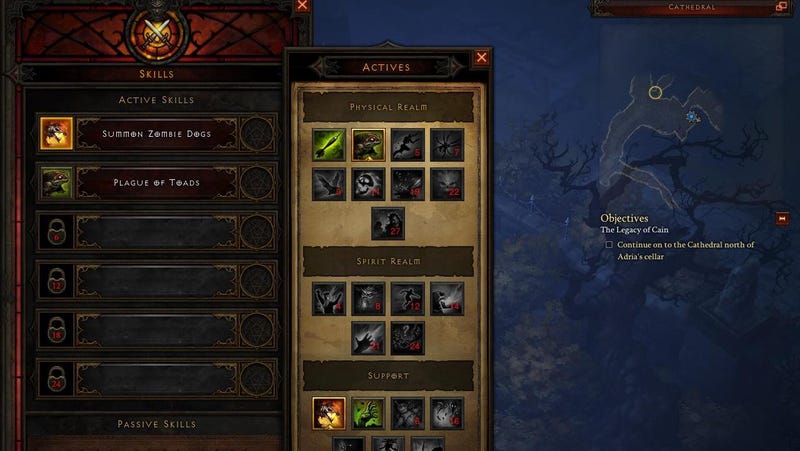 My Witch Doctor's Skill Tree -And Brian was never seen nor heard from again.
Battlefield 3's much-anticipated open beta starts on Thursday, Sept. 29, the publisher said this morning. The beta will run until Oct. 10 and will give players a chance to check out the game and the social platform Battlelog, according to the post on the official website for the game. More »
---
The lines were long, the whole venue is underground and glowing motorcycles were parked outside. Inside the Best Buy Theater in Times Square at last night's Gears of War 3 launch party, they were giving out plenty of swag and people could take photos of themselves holding a chainsaw gun. More »
---
The Tokyo Game Show is wrapped, and for the most part so is our coverage. And what a lot of stories, pictures, hands-ons and videos there were. Here, in a neat little package for you, is the entirety of Brian Ashcraft and Luke Plunkett's coverage from the biggest game show in Japan. More »
---
The makers of the popular Zen Pinball series on PlayStation Network and the Pinball FX 2 series on Xbox Live Arcade will bring the silver ball to the 3DS with Zen Pinball 3D, a downloadable title releasing this fall on the Nintendo eShop. More »
---
Yesterday we noted that there was a rumor making the rounds that deals between Microsoft and Comcast and Verizon to turn the Xbox 360 into a cable box were imminent. More »
---
Forget the farms, the adventures, the empires and the allies. Love them or hate them, Zynga will soon release what they're calling their "most bad-ass game to date," Mafia Wars 2.
How bad-ass can a Facebook game be? More »
---
Gears of War has always felt as though it was built with metaphor in mind. The slam of a clip locking into place; the thudding, oversized boots of a COG soldier. More »
---
Have you heard the news? Battlefield 3 Beta drops on Sept. 29 and will run through to Oct. 10. But what system specs do I need on a computer? How do I install the beta? More »
---
First it was planking, now it's... ScarlettJohanssonning? Yes, that's a thing. Apparently people are posting pictures of their bare bottoms (and sometimes tops) on the Internet in solidarity with Scarlett Johnansson in the wake of her surprise Birthday Suit image popping up on the Internet... More »
---
Resident Evil: Operation Raccoon City was a no-show at the Tokyo Game Show, according to our folks on the ground, and it still hasn't gotten a hard release date. More »
---
Can you tell if someone is having fun by the look on their face while they are playing a game? What if that person is dressed as a Jedi and is playing upcoming massively multiplayer online game Star Wars: More »
---
Hurry! To the Battle.net account! Blizzard Entertainment has just dropped word that the long-awaited closed beta for Diablo III has begun and that the developer has "started issuing the first wave of invitations to participate in the testing process." More »
---
If you have Gears of War 3, you should play the Beast mode. It's the most satisfying way to team up with friends, play a few rounds and-this is key-be done in half an hour. More »
---
We like tips!
Got tips for our editors? Want to show the world your latest creation? Ready to anonymously share an unannounced game? Email us at tips@kotaku.com. Or leave us an anonymous voicemail at (612) 568-2581.
Want a different layout?
Click here for the Speak Up or Tips forums. Want a more "blog-like" look? Click the button up top next to "Top Stories."
Get more Kotaku!
Want even more Kotaku? Want to know which of your friends read us? "Like" us on Facebook and follow us on Twitter.